A true Viking is many things: fearsome, brave, bold… and fashionable. That's right, I said fashionable. I mean, have you seen how many matching outfits Eivor has? Fortunately, thanks to the Assassin's Creed Valhalla apparel and merchandise available from the Ubisoft Store, you can be just as stylish as our favorite member of the Raven Clan. Looking to add some Viking spirit to your wardrobe or home? Then we've got you covered. Here are 11 of our favorite items from the Assassin's Creed Valhalla collection.
All products featured below are sold at the Ubisoft Store.
SHOP ALL ASSASSIN'S CREED VALHALLA MERCHANDISE
---
VALHALLA COMICS LIGHT BOMBER JACKET
60% cotton, 40% polyester fleece, 100% Viking. This light bomber jacket is perfect for English summer nights or for layering during those frigid Norwegian winters. Featuring that iconic Raven Clan blue trim on the collar, pockets, and bottom – along with a collage of original artwork from the Assassin's Creed Valhalla comics – this jacket is perfect for those who want to showcase some truly unique styling.
---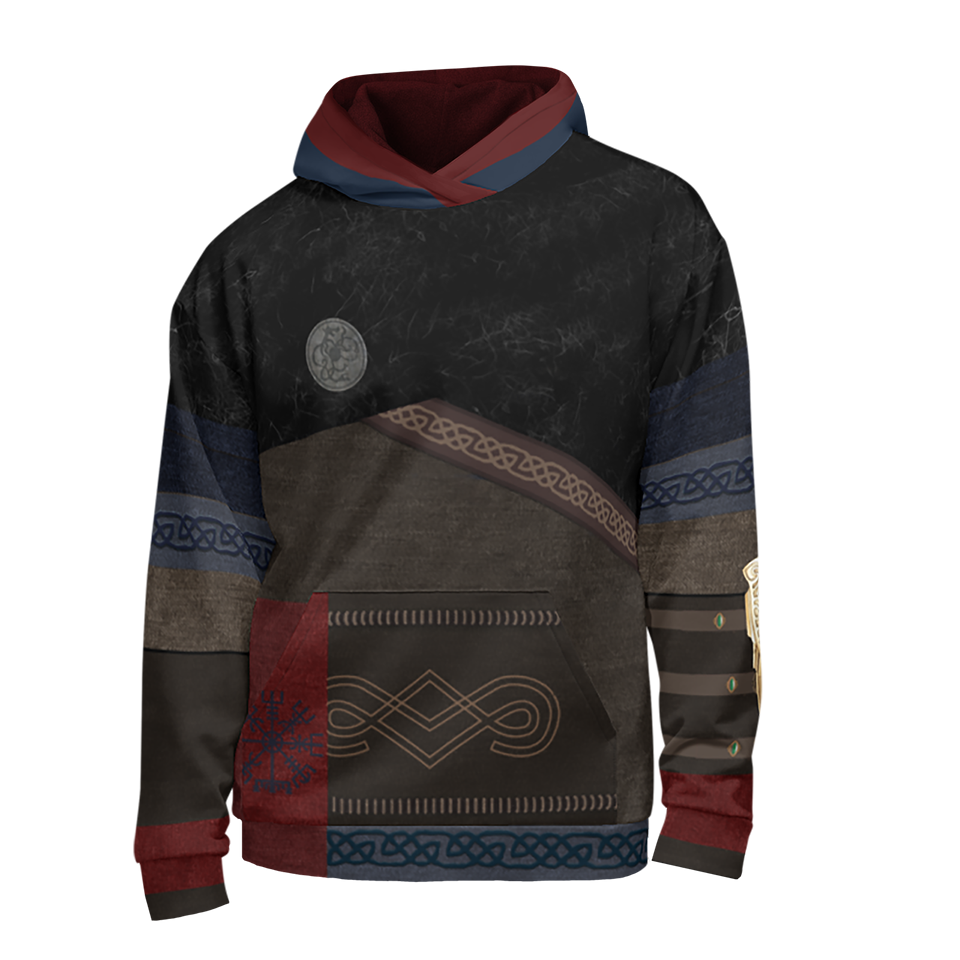 Putting a casual Eivor cosplay together could be complicated and time-consuming, but it doesn't need to be. Take the complexity out of cosplay and look like a hero with this cosplay hoodie. It has specifically positioned details that mimic Eivor's gear, including a Hidden Blade design. Plus, it's extra-comfortable, with soft, cotton-feel fabric on the outside, and brushed fleece fabric inside.
---
This pull-up mask fuses an ornate, Viking-inspired raven design with Assassin's Creed Valhalla's axe-flavored version of the classic Assassin emblem. Featuring a gradient color scheme that goes from sea-green to black, it also works as a headband, neck warmer, bandanna, or even as a wristband – possibly to cover a Hidden Blade? Again, we won't judge.
---
The exhilaration of starting a raid – that moment when you and your hardy Vikingr clamber out of your longship and charge up the knee-deep surf to a treasure-rich shore, axes at the ready – is one of the best feelings Assassin's Creed Valhalla has to offer. Recapture it with this stunning shirt depicting Eivor in a full-tilt lunge, wielding a one-handed sword, with a storm of ships at her back.
---
Eivor and Sigurd are adopted siblings, and – unbeknownst to them – they're bonded by something far deeper than their years of shared adversity and battle. This sweatshirt celebrates their close-but-tumultuous friendship with a full-size image of the pair, dressed for combat and looking pensive against the snowy peaks and aurora borealis of ninth-century Norway.
---
Axes are versatile weapons in the hands of a skilled Viking, which Eivor capably demonstrates as she winds up for a throw in the top half of this sweatshirt. The bottom half is dominated by the sound effect of the axe connecting – as well as, presumably, the darkness her target sees when it does.
---
This gorgeous action shot of Eivor is taken directly from the Assassin's Creed Valhalla comic books, and features everyone's favorite Viking charging onto land wielding a shield and one-handed sword. As with nearly all art prints on the Ubisoft store, it's available in a variety of sizes and print types, including: fine art print, art block, canvas framed, museum canvas, framed & matted print, and metal print.
---
Assassin's Creed Valhalla: Song of Glory is the prequel comic series to the game, and this hoodie features one of the most memorable panels from the miniseries ,with Eivor, face bloodied and defiant, saying "I'll never die on my knees." Channel Eivor's badass energy while enjoying the comfort of this soft hoodie, which also has a convenient front pouch pocket.
---
If sweatshirts and jackets are just too warm to wear right now, you can beat the summer heat in this fashionable crop top. Featuring original artwork from the Assassin's Creed Valhalla comics, this crop tee is printed on premium knit, stretchable fabric that is sewn to fit just right.
---
Your summer wardrobe isn't complete without a good pair of flip-flops. Whether you're headed to the pool, the beach, a backyard BBQ, or just relaxing, you can feel comfy and carefree with these Valhalla slippers. They sport a subtle design and are made with a rubber sole lined with soft fabric to keep you going all day.
---
For any adventure you go on, it's always a good idea to pack a towel. Wherever your day takes you, you can use this vibrant, colorful towel to show your love for the game, dry off, wrap yourself up, or relax on. It's super soft, and the non-printed side is made with extra-absorbent terry fabric.
---
For even more items inspired by Assassin's Creed Valhalla, including accessories, apparel, art, and an Eivor figurine, head to the Ubisoft Store!