The North American League was truly exciting during Stage 1. With Oxygen Esports taking everyone by surprise with their place at the top of the standings; we all witnessed the pure talent that NA has to offer. We are ecstatic to continue this emotional rollercoaster with our 9 NAL teams during Stage 2.
The teams will still be playing in an offline environment at the Esports Arena in Las Vegas, NV, the home of the North American League. You don't want to miss any of the action as this stage will be decisive for the teams that want to make it to the August Major. Continue reading for more details on schedule, format, Challenger League and more!
NORTH AMERICAN LEAGUE
PARTICPIATING TEAMS
FORMAT
With the Six Invitational back in May, Stage 1 required an adjusted schedule over 5 weeks. For Stage 2, our schedule will now have the 9 playdays over 7 weeks. The first 2 weeks will be Super Weeks with 2 playdays each. Starting Week 3, we will be back to one playday a week every Wednesday.
Same as Stage 1, the nine teams will be playing in a best of 1 round robin format with no draws.
STAGE 2 SCHEDULE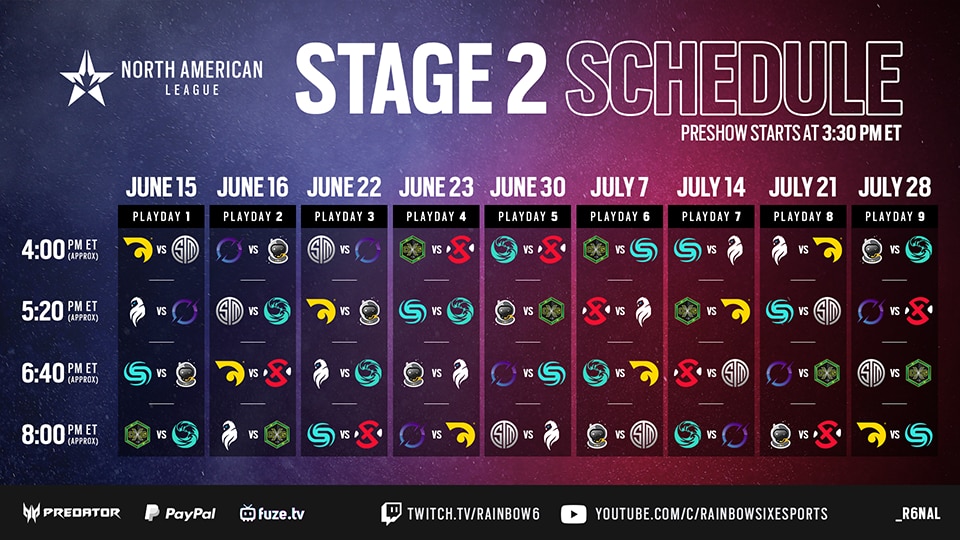 All matches will begin at 4 PM ET/1 PM PT with the pre-show starting at 3:30 PM ET/ 12:30 PM PT.
Week 1 (Super week):

Playday 1 – Tuesday, June 15th
Playday 2 – Wednesday, June 16th

Week 2 (Super week):

Playday 3 – Tuesday, June 22nd
Playday 4 – Wednesday, June 23rd

Week 3: Playday 5 – Wednesday, June 30th
Week 4: Playday 6 – Wednesday, July 7th
Week 5: Playday 7 – Wednesday, July 14th
Week 6: Playday 8 – Wednesday, July 21st
Week 7: Playday 9 – Wednesday, July 28th
PRIZEPOOL
Each Stage has a $50,000 USD prize pool. Below, you will find the prize breakdown for Stage 2:
1st: $15,000
2nd: $7,000
3rd: $6,000
4th: $6,000
5th: $5,000
6th: $3,000
7th: $2,000
8th: $2,000
9th: $2,000
TALENT
We are delighted to continue this 2021 Season with our North American League Talent lineup!
Host: Loviel 'Velly' Cardwell Analysts: Jesse Chick and Jacob 'CaliberJacob' Anderson Commentators: Parker 'Interro' Mackay, Michael 'KiXSTAr' Stockley, John 'Blu' Mullen, Samuel 'Stoax' Stewart
WHERE TO WATCH
CHALLENGER LEAGUE
Challenger League will be back for Stage 2 starting June 19th.
PARTICIPATING TEAMS
Kansas City Pioneers
LennyGG
QUALIFIERS
The Open Qualifier will be taking place on June 5th and will be followed by the Closed Qualifier June 6th in a best-of-three single elimination format. The 16 teams from the Open Qualifier will proceed to the Closed Qualifier. The Relegation match will happen on June 12th for teams Nemesis and Smoke Break.
You can sign up for the Open Qualifier HERE.
FORMAT
Following the same format as Stage 1, teams will play in a Best of 1 Round Robin format in two groups over 14 playdays throughout 7 weeks. Starting June 19th, there will be four matches played every Saturday and Sunday.
PRIZE POOL
Just like for Stage 1, this Stage of Challenger League will have a $40,000 USD prize pool. The prize breakdown is as followed.
1st: $12,000
2nd: $8,000
3rd: $5,000
4th: $3,000
5th - 6th: $2,400
7th - 8th: $2,200
9th- 10th: $1,400
11th – 16th: $0
WHERE TO WATCH
English: Twitch.tv/R6EsportsNA
OFFICIAL MERCHANDISE
Support the league and gear up for the new stage at the Ubisoft Store!
Make sure to follow @R6esportsNA, @R6EsportsEU, @R6EsportsAPAC and @R6EsportsLATAM on Twitter to get the latest news on the Rainbow Six Circuit! For a behind the scenes look, be sure to follow us on Instagram. Use the hashtag #R6NAL to follow or take part in the conversation!
You can catch all the Rainbow Six North American League action starting on June 15th at 4 PM ET/1 PM PT at twitch.tv/rainbow6!