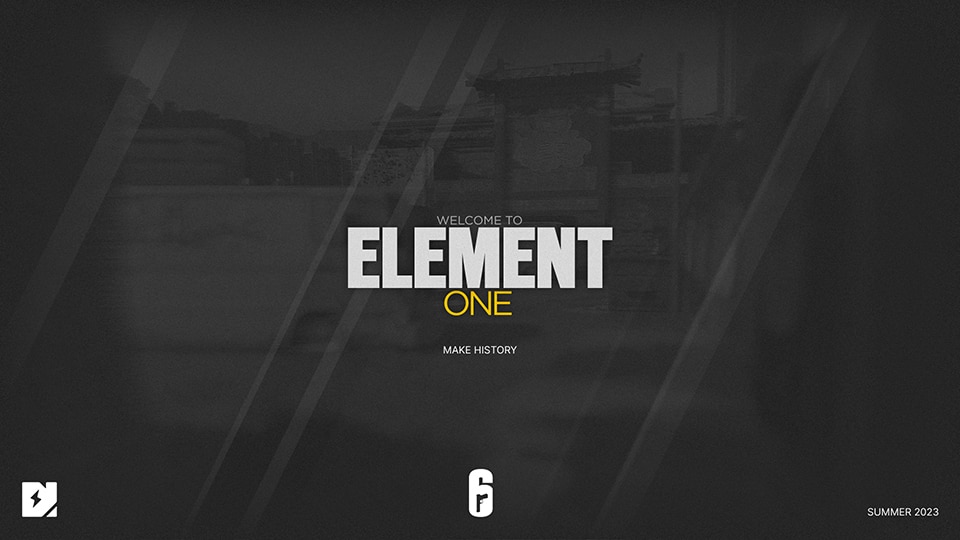 Introducing ELEMENT ONE: the North America Off-Season Competition
May 31, 2023
·
3 minutes read
Introducing ELEMENT ONE, a new Off-Season tournament, in partnership with Nerd Street, open to all North American teams for a total cash prize of $25,000!
Designed mainly for aspiring professional players and teams, ELEMENT ONE will take place during the Off-Season period between June and August.
This tournament will have no connection with the BLAST R6 global esports circuit, which means that no points will be allocated for the next Six Invitational through this competition.
In addition, all North American teams will be able to take part to this new Off-Season tournament, with the exception of teams and players from the Blast R6 North America League.
The tournament will be hosted and produced by Nerd Street from June 16th to July 28th, with a $25,000 cash prize.
ELEMENT ONE
FORMAT EXPLAINER
ELEMENT ONE will consist of two open qualifiers that will produce a total 8 teams that will compete against 8 invited teams in a 16 team Swiss system and eventual Playoff structure during the final phase.
ELEMENT ONE is split into three stages:
Phase Alpha: Qualifiers
ELEMENT ONE will have two, 3-day open qualifiers open to all eligible North American competitors in Rainbow Six Siege:
Alpha Open Qualifier #1 - June 16-18, 2023

Alpha Open Qualifier #2 - June 23-25, 2023
4 teams have an opportunity to qualify for the main event (PHASE BETA) from each Open Qualifier (8 total teams). Eligible teams are as defined in the Qualifier Guidelines.
Day 1-2 (Swiss system)
Each team is guaranteed to play at least 4 BO1 matches during days 1-2.

(FF wins are considered a match)

If a team loses 4 matches, they are eliminated from that Open Qualifier and are unable to advance to day 3 of that Open Qualifier.

Every map must produce a valid result. Every map or game cannot result in a tie.

There is limited overtime for Qualifier matches. Max 15 rounds, 8-7 score line.

Top 12 teams will advance to day 3.

Top 4 teams from days 1 & 2 will receive a first-round bye on day 3's playoff bracket.
Day 3 will be a single elimination BO3 closed qualifier bracket where the top 4 teams from each qualifier will continue to next phase.
Phase Beta: Group Stage
The 8 teams from open qualifiers will square off against 8 invited teams in a Buchholz Swiss Bracket.
All promotion and elimination matches will be BO3

All other matches will be BO1

Teams with 3 wins will advance to the playoffs (PHASE GAMMA)
Phase Gamma: Playoffs
Playoffs will be a single elimination bracket where the Top 8 teams fight for the championship and part of the $25,000 prize pool!
Prize pool distribution:
5th-8th - $1,250

3rd-4th - $2,500

2nd - $5,000

1st - $10,000
Sign up now and fight your way to become the ELEMENT ONE Champion!
TIMELINE
Phase Alpha:
Alpha Open Qualifier #1 - June 16-18

Alpha Open Qualifier #2 - June 23-25
Phase Beta:
Round 1 - July 5-6

Round 2 - July 7-8

Round 3 - July 11-13

Round 4 - July 17-19

Round 5 - July 20-21
Phase Gamma:
Quarterfinals - July 25-26

Semifinals - July 27

Grand Finals - July 28