レイド第二弾「オペレーション・アイアンホース」が6月30日にリリースされます。長らく時間があいていましたが、いよいよ動きだす時が来ました。これまでにリリースされたコンテンツのなかでも、ファウンドリィ一派が最難関レベルと言えます。最上級の装備パフォーマンスとクリアに向けた最高のチームワークが求められる8人制のミッションです。
報酬には2つの新エキゾチック武器、バイナリートリガーライフルの「ザ・ラベナス」とマグナムリボルバーの「レグルス」、さらに初のヒーラー・ピュアタンク専用装備セット「フューチャーイニシアティブ」と「ファウンドリィブルワーク」それぞれが登場します。
最速レース
レイドはすべてのプレイヤーがプレイ可能です。8人で部隊を組めば誰でも参加できますが、"ワールドファースト"を語れるのは各プラットフォームごとにたった1チームのみ。グループはフレンドでもクランメンバーでも構いません。レイドに向かうのは誰とでも構いません。ただし、勝利を狙い撃つには多大なコミュニケーションや協力関係が欠かせません。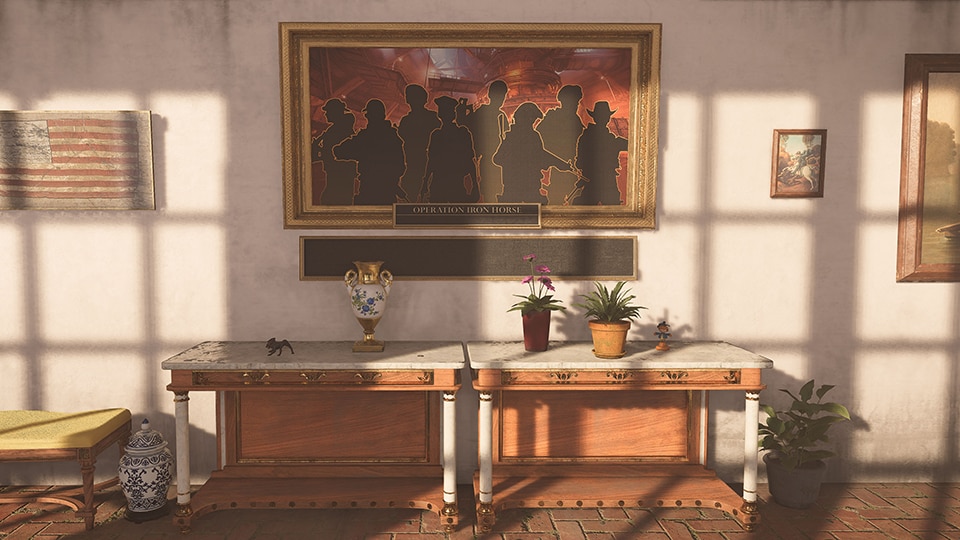 共に熱狂しよう
6月30日を一緒にお祝いしましょう。世界最速クリアレース期間は、複数の『ディビジョン2』ストリーマー達のアカウントでTwitch Dropsが開催されます。お気に入りの配信に参加し色々なチームがレイドに悪戦苦闘する様子を見守っていると、あなた自身もリワードを手に入れることができます!
Twitch Dropsを有効にするためにはUbisoftアカウントとTwitchアカウントをリンクさせることが前提条件となります。アカウントのリンクはこちら から設定し、手順など詳細な情報についてはこちらのサポートFAQをご覧ください。
「オペレーション・アイアンホース」は始動間際です。準備はいいですか?あなたとチームはこの挑戦を受けますか?
世界最速クリアレースの開始時間はこちらです: (日本時間)7月1日午前1時
「ファウンドリィの試練が待っています、エージェント。
/『ディビジョン2』開発チーム
"Operation Iron Horse: Race to World First" Competition Terms and Conditions
NO PURCHASE OR PAYMENT NECESSARY TO PARTICIPATE IN UBISOFT'S COMPETITION ("COMPETITION"). A PURCHASE WILL NOT INCREASE YOUR CHANCES OF WINNING.
Beginning on June 30, 2020 at 6 PM CEST, 9 AM PT Ubisoft Entertainment (the "Sponsor") will release "Operation Iron Horse" – the first 8-player raid (the "Raid") for Tom Clancy's The Division 2 (the "Game"). To beat it, players will need to co-ordinate and communicate with their team. There is more to learn about Iron Horse on https://tomclancy-thedivision.ubisoft.com/game/ja-jp/news-updates
COMPETITION DESCRIPTION: Starting on Thursday, June 30, 2020 at 6 PM CEST, 9 AM PT ("Competition Start Date"), Ubisoft Entertainment ("Sponsor") is hosting an in-Game competition to celebrate the release of the Raid. Employees, officers, and directors of Sponsor and its affiliated companies, subsidiaries, licensees, franchisees, distributors, dealers, sales representatives, advertising and promotion agencies, and any and all other companies associated with the Competition, and each of their immediate families (i.e., parents, spouse, siblings, children, grandparents, step parents, stepchildren and step siblings, and their respective spouses, and those living in the same household, whether or not related) are not eligible to participate.

HOW TO ENTER: The first team to beat the Raid will be crowned as the winner of this Competition, provided it complies with all the requirement set forth in these Competition Terms and Conditions.
Competition requirements:
You can take part to this Competition on any platform on which the Game is released upon the Competition Start Date.
On each platform (Xbox One, Playstation 4 and PC) the first eight players (or less) who team-up and beat the final boss of the Raid will be considered as the winners of this Competition. Therefore, there will be three (3) winning Teams, one (1) Team per platform. If any of the above players are found not to comply with these Terms & Conditions, the Sponsor reserves the right to disqualify all or part of the team and/or select alternative winners for this Competition.
These eight players (or less) do not need to come from the same clan.
All entries are subject to verification by Ubisoft. Any attempted form of use other than as described herein is void. The Sponsor, in accordance with the Competition Terms and Conditions, will determine in its sole discretion, what constitutes a valid use. This is a worldwide competition. LIMIT: all entrants (the "Entrants") must be at least 18 years of age. Competition is subject to all international, national, federal, state and local laws and regulations, and is void where prohibited by law.
Prohibited Actions
During the Competition, the Sponsor may, at its own discretion warn, disqualify or ban any Entrant, without prejudice for the Entrant, that notably (without limitation):
Registers to the Competition with multiple accounts;
Colludes with other Entrants to create an unfair advantage;
Uses any kind of cheats or hack;
Exploit any glitches or bugs which provide an unfair advantage or which threaten the general balance or the economy of the Competition.
Does not comply in full with the current Competition Terms & Conditions and/or with the Game's Code of Conduct;
Has a behavior which, in Sponsor's estimation, is, before, during and/or after the Competition, unlawful, harmful, abusive, harassing, threatening, malicious, defamatory, libelous, untruthful, pornographic, pedophilic, obscene, vulgar, racist, xenophobic, liable to incite hatred, sexually explicit, violent, contrary to morality or is in any other way unacceptable.
SELECTION OF THE WINNERS:
Prize:
All members of the first team to complete the Raid for each platform in accordance with these Competition Terms & Conditions (the "Winners") will be featured in the Game, in a painting representing each Winner's character, along with the Winners' main ID, and their clan name (if all Winners belong to the same clan within the Game), at a date decided at Sponsor's discretion.
The Sponsor will notify the Winners by email, sent to the email address provided associated to the player account used to enter the Competition.
LIMITATION OF LIABILITY: The Sponsor and its affiliates are not responsible for any technical malfunctions of electronic equipment, computer on-line systems, servers, or providers, computer hardware or software failures, failure of third party sites or any other issues which may limit a user's ability to participate in this Competition.

ENTRANT'S PERSONAL INFORMATION: Sponsor collects and processes Entrants' personal data to allow their participation in the Competition and to send Prize(s) to Winner(s). The processing of Entrants' personal data is necessary to perform the contract they have entered into with Sponsor by accepting the Official Rules. Entrants' personal data will be accessible by Sponsor, its affiliates and sub-processors, and will be stored until the end of the Competition. If Entrants consent, their data may also be used for other purposes outside of the strict organization of the Competition and will be stored as long as Entrants agree to such uses.

Sponsor may transfer their personal data to non-European countries that ensure an adequate level of protection according to the EU Commission or within the framework of the standard data protection clauses adopted by the EU Commission accessible here.

Entrants can withdraw their consent at any time, request a copy, the deletion or rectification of their data, object to or request the restriction of their processing, and/or receive their information in portable form by contacting Sponsor's data protection officers here.

After contacting Sponsor's data protection officers, if Entrants are not satisfied with the way Sponsor handled their request, Entrants may address a complaint to the regulatory authority of their country.

PUBLICITY RELEASE: In accordance with the Sponsor's Terms of Use posted at https://legal.ubi.com/termsofuse accepted upon creation of a Ubisoft account, acceptance of any Prize constitutes Prize Winner's permission for the Sponsor to use Prize Winner's entry materials, including but not limited to their in-Game character, Ubisoft ID and clan name (collectively, the "Attributes"), for advertising and/or publicity purposes worldwide (including but not limited to as featured on an in-Game painting) and in all forms of media now known or hereafter devised, in perpetuity, without further compensation or authorization, and releases the Sponsor and its affiliates from all claims arising out of the use of such Attributes.

DISQUALIFICATION AND CANCELATION: The Sponsor reserves the right in its sole discretion to disqualify any individual who is found to be tampering with the operation of the Competition, or to be acting in violation of these Terms and Conditions. The Sponsor reserves the right to disqualify all or part of any team who is found not to comply with these Terms and Conditions and/or select alternative winners for this Competition. No forged entries will be accepted. The Sponsor reserves the right to cancel or modify the Competition for any reason at any time. In addition, The Sponsor reserves the right to modify, adapt or adjust the Ubisoft ID and/or clan name of the Winners, should it be offensive, including without limitation any name that is unlawful, harmful, abusive, harassing, threatening, malicious, defamatory, libelous, untruthful, pornographic, pedophilic, obscene, vulgar, racist, xenophobic, liable to incite hatred, sexually explicit, violent, contrary to morality or is in any other way unacceptable.

TERMS AND CONDITIONS: A copy of these Terms and Conditions may be accessed at https://tomclancy-thedivision.ubisoft.com/game/ja-jp/news-updates/349461/operation-dark-hours-race-to-world-first for the duration of the Competition

DISPUTES: Except where prohibited, you agree that: any and all disputes, claims and causes of action arising out of this Competition or any Prize awarded shall be resolved individually, without resort to any form of class action, and that by participating in the Competition, you agree that Paris, France will be the exclusive forum for any formal dispute resolution. All issues concerning these official rules and the Competition shall be governed by the laws of the France, without giving effect to any choice of law or conflict of law rules.

QUESTIONS: If you have any questions about this "Operation Iron Horse: Race to World First" Competition, please contact the Sponsor Ubisoft Entertainment at https://support.ubi.com/.
THIS COMPETITION IS IN NO WAY SPONSORED, ENDORSED OR ADMINISTERED BY MICROSOFT, SONY, YOUTUBE OR TWITCH.