With the release of The Crew® 2 Season 1 Episode 1: The Chase, we are introducing a variety of new content, improvements and fixes to your game experience. Please see our patch notes below for the most notable changes.
For more information about the The Crew® 2 Season 1 Episode 1: The Chase update, check out our dedicated article.
This patch will be deployed via a maintenance starting at 10am Paris time on Wednesday, November 25, and your game client will automatically update to the latest version once it is live. Please follow our official channels to stay up to speed as to any changes.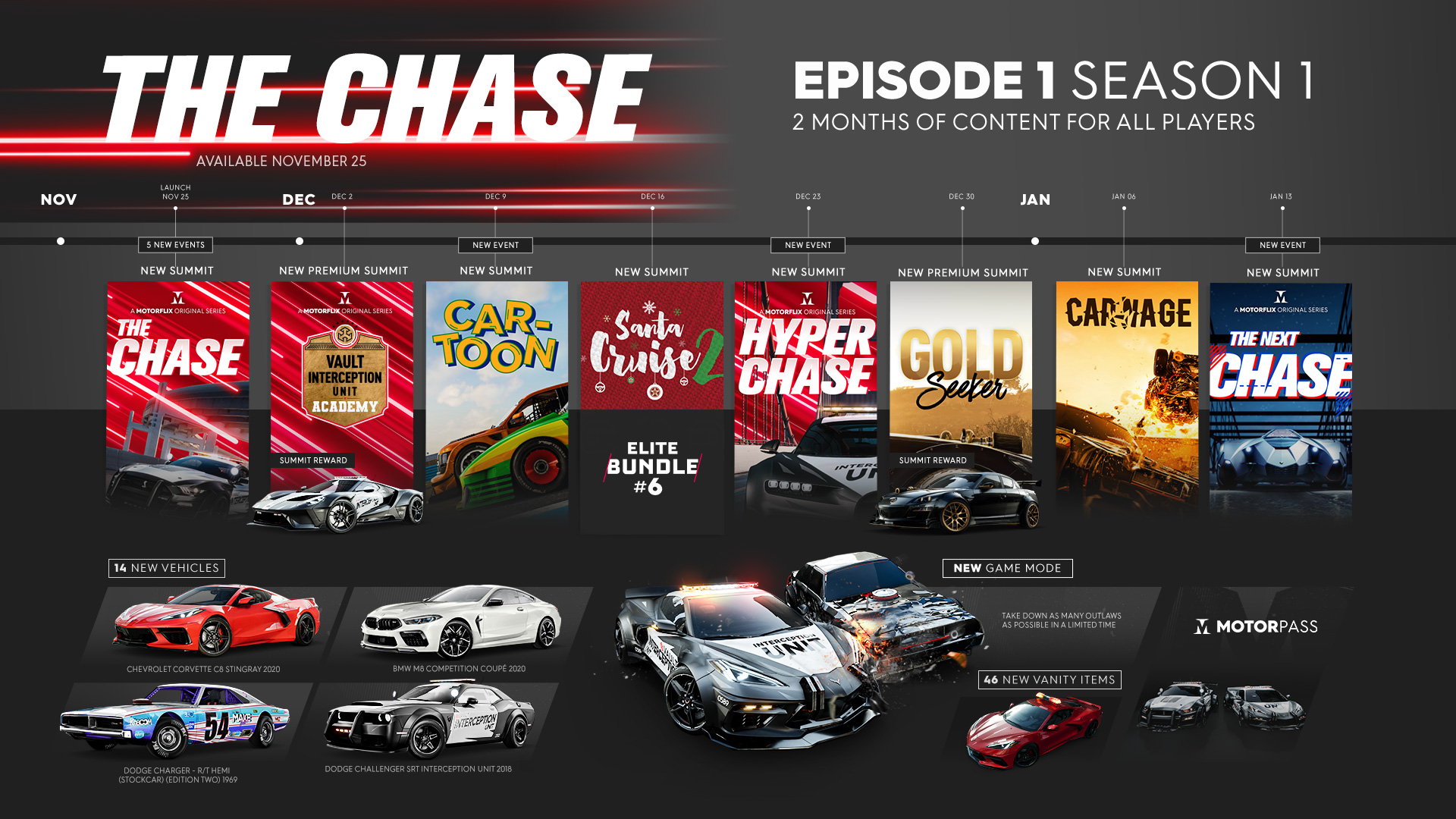 DETAILED PATCH NOTES
Estimated patch size: 27 GB approx.
FEATURES
VANITY ITEMS
• [Added] 1 new vanity type: Rooftops.
• [Added] 92 new vanity items - to be released on a weekly basis through the shop, as LIVE Summit rewards, or in the Motorpass.
o 5 Smokes
o 13 Tires
o 14 Underglows
o 10 Nitros
o 17 Horns
o 7 Window Tints
o 15 2D Emotes
o 7 Rooftops
o 4 Outfit parts
• [Fixed] Sweden Smoke particles coming only from the right wheel when speed is over 100 km/h with drift vehicles.
• [Fixed] Typo in Laser Blast Underglow.
SUMMIT
• [Added] 16 New LIVE Summits with their associated activities & rewards.
o Keep track of upcoming LIVE Summits at The Crew Hub
HOBBIES
• [Added] 6 Weekly Hobbies will now repeat every week.
GAME MODE
• [Added] New Chase/Hunt Game mode with new visual props.
o New map icons o New event start areas
o New introduction videos
o New visual tickets
o 16 new PvE events (8 in Episode 1, 8 in Episode 2)
MOTORPASS
• [Added] 1 new Motorpass per Episode
o 50 reward tiers, including vehicles, vanity items, currency packs, and more.
o Full details in our dedicated article
VEHICLES
VEHICLES
• [Added] 29 New Vehicles, including:
o Shop additions
• Lamborghini Veneno Coupé Interception Unit (2020) – Hypercar (Nov 25)
• Dodge Challenger SRT Demon Interception Unit (2018) - Street Race (Nov 25)
• Chevrolet Corvette C8 Stingray (2020) - Street Race (Nov 25)
• BMW M8 Competition Coupe (2020) - Street Race (Nov 25)
• Dodge Charger R/T Hemi (1969) - Demolition Derby (Nov 25)
o LIVE Summit rewards
• Ford GT Interception Unit (2017) - Hypercar (Summit beg. Dec 2)
o Elite Bundle 6 (coming soon)
o & more to be revealed on a regular basis!
• [Fixed] The trail of the Koenigsegg Ones's wipers is not synced with the wipers themselves.
• [Fixed] Window tint applies to the rear lights of Honda Civic and Audi RS5.
• [Fixed] H1 ALPHA Hummer has black texture for Rear Wing 2 back and right-side windows.
WORLD (VISUAL & AUDIO)
EVENTS
• [Added] 16 PvE events for the new game mode (8 in Episode 1, 8 in Episode 2)
o 5 events available on November 25
o 1 further new event every two weeks thereafter until Episode 2
• [Fixed] Some tickets display the player's vehicle level instead of "Loaned Vehicle"
WORLD
• [Added] Season 1-themed posters and billboards added to House and cities.
• [Fixed] The last ramp in Key West Chaebung Event causes Aeroboat SV12 to crash.
MISC
• [Added] New themed weathers available in Photo Mode.
o Chase Wet
o Chase Fog
o Chase Rain
o Hunt Sunny
o Hunt Cloud
o Hunt Fog
TECHNICAL
NEW GEN CONSOLES
• [Added] The Crew® 2 is retro-compatible with Xbox Series X|S and PlayStation®5.
o Game saves are cross-gen, meaning that existing saves on old gen can be accessed on same-platform new gen consoles, and vice-versa.
AUDIO
• [Improved] Certain horns can now be toggled by simply clicking the stick, instead of needing to keep it pressed for the duration.
---
For more information on The Crew®, check our official website. Join the The Crew® community on the forums, Reddit, TC Social, and Discord, and be sure to follow us on Twitch to never miss a livestream. The game's Photo Gallery, Leaderboards and Summit Calendar are all viewable on The Crew® Hub. Videos highlighted by our in-game sharing tool can be seen on the official The Crew® 2 - Community Videos channel.