Gearheads,
The festive season is almost upon us. Let's find out what you can expect this Icy Xmas by diving into this week in The Crew 2 round-up!
HOLIDAYS BOOST
Starting from Wednesday 22nd, LIVE Rewards will be receiving another boost over the Xmas period. It's time to dust off your LIVE Reward Sniffer set. Happy hunting!
LIVE SUMMIT – ICY XMAS (DECEMBER 22 – DECEMBER 29)
Join us this week and race through Santa Claus Village to get your gift first! (Caution to the deers who might be crossing the road.)
Let's see what rewards you could be winning:
PLATINUM

ICY TRAIL SMOKE

GOLD

BMW Z4 M40i

SILVER

LEGENDARY DR PERF PARTS
(LOOT DIGGER, GOLDFINDER & LUCKY)

BRONZE

500K FOLLOWERS
You can find all the details on
The Crew Hub
The Far & Beyond store is stocking up on a new LIVE Summit bundle. Add these four vehicles to your collection and get started on the leaderboards.
Audi R8 Coupé V10 Plus (2016) – Street Race
PROTO HuP ONE Inferno Edition (1930) – Drag Race
PROTO Alpha Mark II (2018) – Alpha GP
Mazda MX-5 Miata NA (1989) – Rally Raid
ELITE BUNDLE 9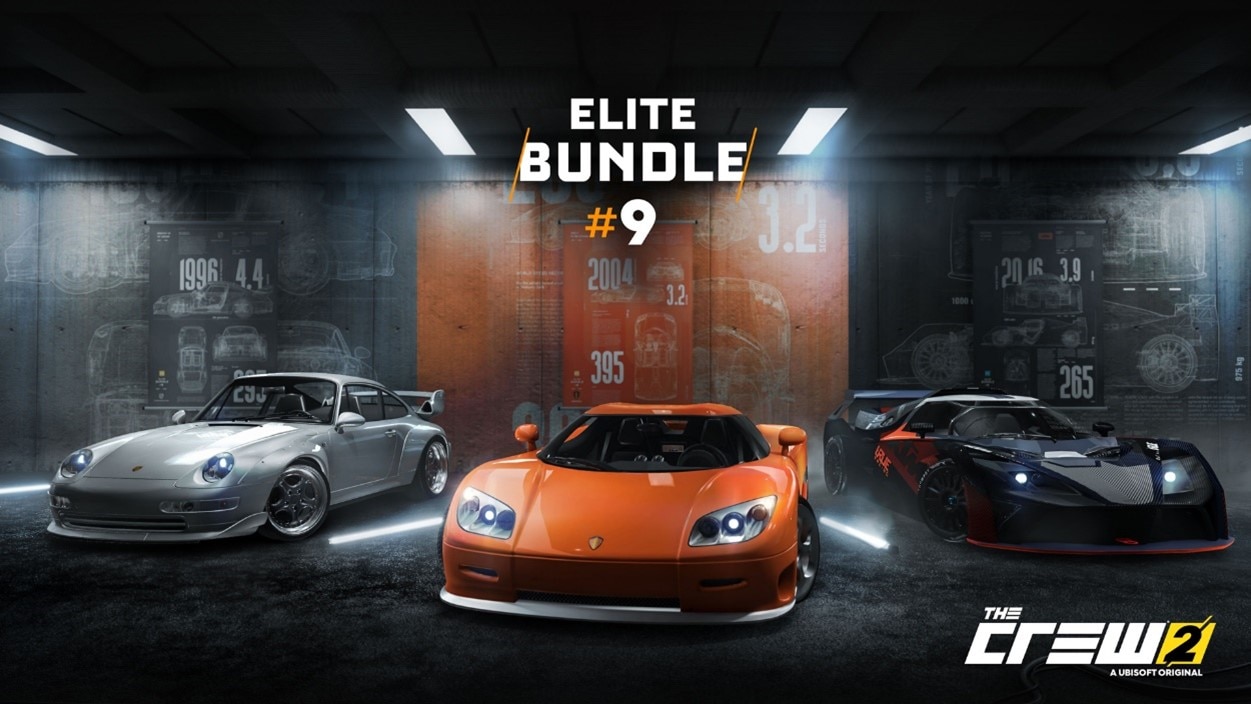 Elite Bundle 9 introduces three brand new vehicles from KTM, Porsche and Koenigsegg. Add them to your collection from December 22nd and tame the road!
KTM X-BOW GT4 (2016) – Touring Car
Porsche 911 GT (993) (1996) – Street Race
Koenigsegg CCR (2004) - Hypercar
VEHICLES & VANITY BUNDLES
Jump behind the wheel of the Blue Bird and Avalanche bundles this week as the Far & Beyond welcomes two new Vehicle & Vanity Bundles. Available in-game until December 28th.
Bugatti Divo (2019) – Blue Bird Bundle
Bugatti Divo (2019)– Hypercar
Blue Confettis Smoke
Dark Blue Nitro
Blinking Blue Underglow
Dodge Challenger SRT Demon (2018) – Avalanche Bundle
Dodge Challenger SRT Demon (2018) – Street Race
White Molten Core Tire
Blizzard Smoke
Blinking White Underglow
BASIC BUNDLE
Bugatti Addict
Bugatti LA Voiture Noire (2019) – Hypercar
Bugatti Type 57 SC Atlantic (1936) – Street Race
COMMUNITY ROUNDUP

Photo by: Maybe Colton (Discord)

Photo by: KaRaKurT (Steam)

Photo by: SidWaj (Twitter)
---
For more information on The Crew®, check our  official website. Join the The Crew® community on the forums,  Reddit,  TC Social, and Discord and be sure to follow us on  Twitch to never miss a livestream. The game's Photo Gallery, Leaderboards and Summit Calendar are all viewable on  The Crew® Hub. Videos highlighted by our in-game sharing tool can be seen on the official The Crew® 2 - Community Videos channel.