The guitar has long been an iconic instrument, with roots reaching back before we even started writing down our history.
Whether you're just starting to learn the guitar or you're looking to spice things up by moving away from standard tuning, Open G is a tuning setup worth exploring. Heavily utilized in blues and rock songs, Open G makes the most out of your guitar while significantly reducing the amount of fingerwork required --- that is, as far as chords go.
Ready to gain access to those bluesier riffs that seemed a little tough to get to in standard tuning? Let's talk about that and what else can come with dropping your strings into Open G.
What Is Open G Tuning?
To start off, let's address the name. Open G is called so because when you strum all of the open strings, you end up playing a G chord --- makes sense, right?
The tuning goes all the way back to the late 19th century and has been popular amongst guitar players all around the world. But what makes it so special, why wouldn't you just play in standard?
For starters, Open G, as mentioned, is a beautiful chord from the get-go. You're essentially turning your guitar into a chord machine, guaranteeing that anywhere you place a bar chord is going to sound gorgeous and effortless.
On top of that, Open G makes for some very easy, but resonant chords with the fluctuation of just one or two fingers --- no big, complicated chord shapes required.
This makes Open G a great tuning choice if you want to play laid-back, simple progressions and focus on your vocals.
However, that doesn't mean that songs played in this tuning are always easy. The open chord opened the door for guitar players like Muddy Waters and Lightnin' Hopkins to play melody-based riffs while simultaneously playing chords and singing.
By making it easier to play the chords, Open G gives guitarists more accessibility to typically-complex riffs and runs.
What's the Difference Between Standard Tuning and Open G
Standard tuning is the order of guitar strings as played generally for the last five centuries. One of the reasons standard tuning is so prominent is that it allows for a balance of accessible chord and scale shapes, making the guitar more musically logical and physically easier to play.
If the tuning were to be slightly different, we'd likely be dealing with either a different-sized neck or different-size frets --- take for example the spacing of notes on a cello, which are much farther apart than on a guitar.
Standard tuning as we know it takes advantage of perfect fourths and major-thirds (music theory jargon) in this pattern from top to bottom:
E A D G B E
In order to reach Open G Tuning we just need to adjust three of these strings and leave the other three alone. This is made even easier when using the Rocksmith Tuner that has a plethora of different tunings to try out, including not only Open G but all of the other Open Variations as well (read: you can tune to any "Open" chord!).
However, if you don't yet have the Rocksmith Tuner, don't worry, we'll walk you through a couple of other ways to get to Open G.
How To Tune Your Guitar to Open G (Without a Tuner On-Hand)
So, you have your guitar honed in with Standard. Here's how to shift it to Open G without the help of a tuner if you don't happen to have one on-hand right this second.
Basically, you'll be using your own strings to tune your other strings --- you'll find what the note should sound like (we'll guide you here!) and then tune the string until it (or one of its frets) matches that note. 
Always remember to tune from your lowest E string (the one closest to your face) first. This ensures that when you're using the frets to tune the next string, you aren't suddenly shifting around on yourself, and instead build up the tune that you want.
Open G is tuned as follows:
D G D G B D
Starting from your low E string, you'll want to drop that down to a D note, so one full whole-step. On the fretboard, this would be tuning that first string so that the note on its 7th fret matches the note on the next string up, the A string.
Once we have our new low D string locked into place, we move on to the next string, currently your Standard A. We're going to drop that down to a G, which is another whole-step. You can reuse the same trick as before --- play the next string up and compare that note to the 7th fret of the A string. Before you know it, that won't be your A string anymore, it'll be a G.
Once you've tuned the first two strings, you're in the home stretch! Hopscotch over the third, fourth, and fifth strings (i.e. D, G, and B), which are already where they need to be, no adjustment required!
The last string you'll retune is your high E string, the one furthest away from your face. This string will match what you did to the low E string --- it will move to a D, one whole step down. You can accomplish this by actually playing the lowest string you tuned first, and tuning the last string (i.e. your highest string) to match.
Once you've accomplished this, congratulations --- you've got your guitar into Open G and you're ready to whip out some Delta Blues!
Another positive factor for Open G is that, in order to reach it from standard, you only need to adjust three strings, and they all get tuned down.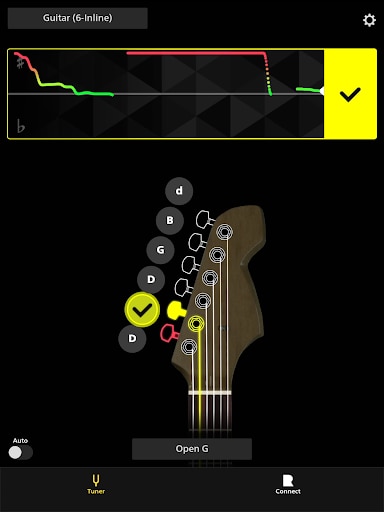 This is huge for most guitar players since tuning a string that's already wound even further up runs up the risk of having any of them snap, leading to a restring and retune of the whole guitar.
Not to mention, strings that are tuned higher than their standard position tend to be significantly stiffer, whereas the lower strings get a bit more relaxed and are much easier to push down while jamming out.
Songs You Can Play in Open G
Open G is an incredibly popular tuning style in the Blues, particularly the Delta Blues. Open G was pioneered by legend Robert Johnson, but many songs in today's music landscape make use of this tuning.
If you're looking for modern songs to play, look no further than the American favorite rock and roll historian and boundary pusher, Jack White, lead guitarist of The White Stripes. Granted, Jack White actually plays in open tunings more often (perhaps he just prefers the sound and feel). But, you can easily replicate a majority of his most iconic riffs while in Open G.
Not interested in the bluesy, slide-based guitar riffs? Don't give up on Open G, there's plenty more outside of the genre. "A Day in the Life" by Murphy's Law is a rock song that makes use of Open G's simplistic chord options.
Wrapping Things Up
Whether you're interested in playing the blues or casually playing some melodic acoustic, Open G is an excellent and straightforward tuning option to explore. Beginners and experts alike will easily find themselves playing in Open G for hours on end --- or at least until your fingers start to get tired!
Sources:
History & Origins of the Standard Tuning for Guitar | Fretboard Knowledge