As shown in our Post Launch and Season Pass Trailer, all Assassin's Creed® Valhalla players will be receiving free seasonal content every three months. Season 1 kicks off this month with the Yule Festival, and we're excited to provide you with a glimpse of the ambitious River Raid update coming in February, 2021. Check it out!
Settlement Expansion + Revellers' Hut
More room means more buildings! The Settlement is expanding, and the revellers have arrived to host numerous festivals throughout the year. And to kick off the month, they'll be throwing a Yule Festival! What's a Yule Festival, you may ask? Well...
Yule Festival
Odin is with us! We're excited to proclaim the commencement of the time-limited Yule Festival active from December 17 to January 7, with many festivities to enjoy and rewards to garner. The weather forecast for Ravensthorpe is going to be snowy, so better bring your Galloglach Cape to keep warm.
We hope yule love the festivities as much as we did developing them. Go enjoy it now!
Dance, Drink, and Be Merry!
During the Yuletide celebration you can expect to get entangled with various festivities ranging from drunk brawls (yes, you read that right), archery challenges, and more.
Sweet Mother of Loot!
Partaking in said festivities will get you Yule Tokens to redeem for some festive rewards at the Festival Shop.
Mōdraniht Ceremonial Outfit
Mōdraniht Tattoo Set
Mōdraniht Ceremonial Seax
Mōdraniht Ceremonial Shield
Traditional Yule Garland
Sacrificial Altar
Ritual Tree Ornaments
Cozy Fire Pit
Yule Beech Tree
Important Note: The event will be accessible after having completed one story arc (Grantebridgescire or Ledecestrescire) and do note that you will only be able to get the festival rewards during the Yule Festival window.
What's New in the Store?
In case you missed it, the Hel's Damnation Theme is available via the Store, purchasable by Helix Credits.
If you're looking to really impress, the Niflheim Theme will become available on December 22 in the Store as well.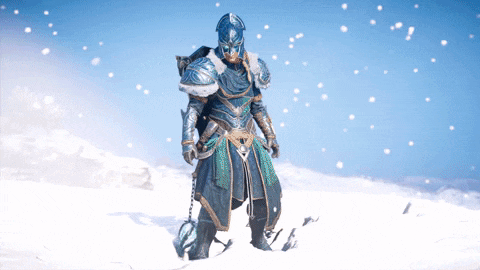 Holiday Community Contest
Join the Yule Festival and capture your favourite photo or video for a chance to win The Art of Assassin's Creed Valhalla and 50 Euros-worth of Helix Credits! The contest will run from December 17 through January 1 on Twitter.
Learn more about the contest, rules, and prizes in our Holiday Community Contest post.
Sneak Peek at the River Raid Update
Aside from the new skills and abilities that will be unlocked in February, 2021, a new game mode called the River Raid will keep you busy with not one, not two, but THREE new (and replayable!) maps that will be brimming with new Gear, Silver, Runes, Books of Knowledge, and much more. And you'll want to build the new Jomsviking Hall in your expanded Settlement so that you can recruit more Jomsvikings to take with you to these River Raids.
More details about this new game mode will become available in early 2021, so stay tuned. Until then, happy holidays, and enjoy the festivities!