Agents,
The Division 2: Warlords of New York, Season 2 – Keener's Legacy began its second League this week; the Luna League. Throughout this two-week event, Agents are challenged with clearing time trials of several missions in New York City, as well as eliminating enemies with explosive kills, and making them bleed! The event-ready missions are Pathway Park, The Tombs, and Coney Island Ballpark, set to Hard difficulty and Wall Street, set to Challenging. Complete the mission within the specified time in order to gain ranks; the faster the completion, the more ranks you will earn.
League Challenges will reset after the first week, but your total earned ranks will remain, giving you another round to advance in the event stages and earn rewards. Unique to this event is the Luna Moth patch and the Moth backpack trophy, with an Exotic Cache as the penultimate reward at 54 stages.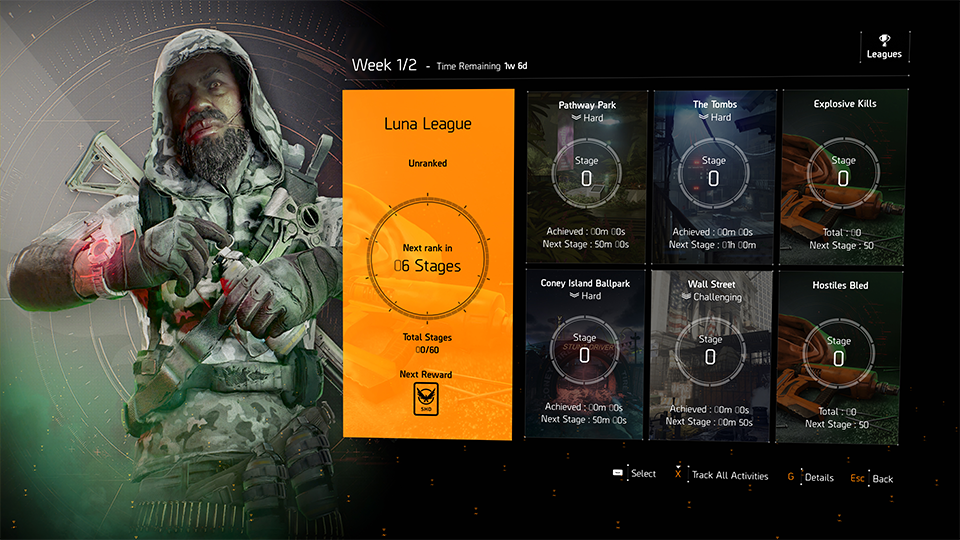 The Phoenix Down Apparel Event is still live until August 3, and fully closes on August 11. It features a total of 4 new full outfits, over a dozen non-outfit cosmetics, and the exclusive Badlands mask. That mask is the final prize and is only available during the duration of the event. It is automatically unlocked when all other 38 items have been acquired. Keys to the Apparel Event Caches are earned every 4 SHD levels and can be purchased – or gifted to clanmates and friends – directly via Premium Credits. Happy hunting, Agents!
PRIORITY ALERTS
The State of the Game livestreams are currently on summer break until August 5th.
TITLE UPDATE 10.1
Title Update 10.1 launched on July 21 alongside a routine maintenance. TU10.1 was intended as an interim rebalancing pass with additional bug fixes and adjustments to loot drops throughout the game. The upcoming Title Update 11 will offer a more substantial addition to the game, as well as even more improvements to things such as 'rainbow rolls' on loot.
Loot changes included in TU10.1:
Increased minimum item power and chances for higher power items for several difficulties, resulting in higher average rolls overall
Slight increase on Challenge
Bigger increase on Heroic and Legendary
Sealed Caches
Increased power of items from Field Proficiency and Dark Zone caches to be on par with Heroic tier loot (up from Challenge)
Increased power of items from Clan caches to be on par with Legendary tier loot (up from Heroic)
Increase of item power of Legendary tier loot also affects all season caches
Moved general pool Exotics from mission final boss loot to mission completion rewards
This means that an Exotic that drops as loot from a final boss in a mission will either be the Exotic specific to the mission (e.g. The Bighorn in Legendary missions) or an Exotic from the current targeted loot pool, but not a random different Exotic. These extra random Exotics can still be awarded with the same frequency but are acquired as an Exotic Cache from the mission completion rewards instead.
TU10.1 also added missing audio and subtitles for various collectibles in Season 2 – Keener's Legacy. Check out the full patch notes for TU10.1 and be sure to let us know what you think of the changes on our official forums. We would love to hear how you feel about the improvements and will be keeping your feedback in mind as we move closer to TU11.
THE DIVISION GLOBAL EVENTS
For those of you still in Manhattan, we recently extended our Global Event schedule in The Division. Here's a handy guide detailing all the remaining Global Events in 2020 – and don't worry, the events will continue long past January on a regular rotating schedule.
That's it for this week!
Until next time,
/ The Division 2 Development Team