With the free update Episode 2, we're releasing new content such as a new specialization, new gear, a new Mastery System for the Kenly College Expedition and two new missions which will give you the thrill of visiting the Pentagon and the DARPA Research Lab. On top of that, with Title Update 6, we're introducing balancing changes to talents, weapons, PvP covering both the Dark Zone and Conflict, and are giving you new ways to hunt for specific loot.
Additionally, we're making some changes on how you craft and recalibrate your favourite gear.
Crafting
Blueprint Selection
With Title Update 6, all the blueprints that you haven't yet acquired will be visible in the crafting interface with a hint on how to acquire them.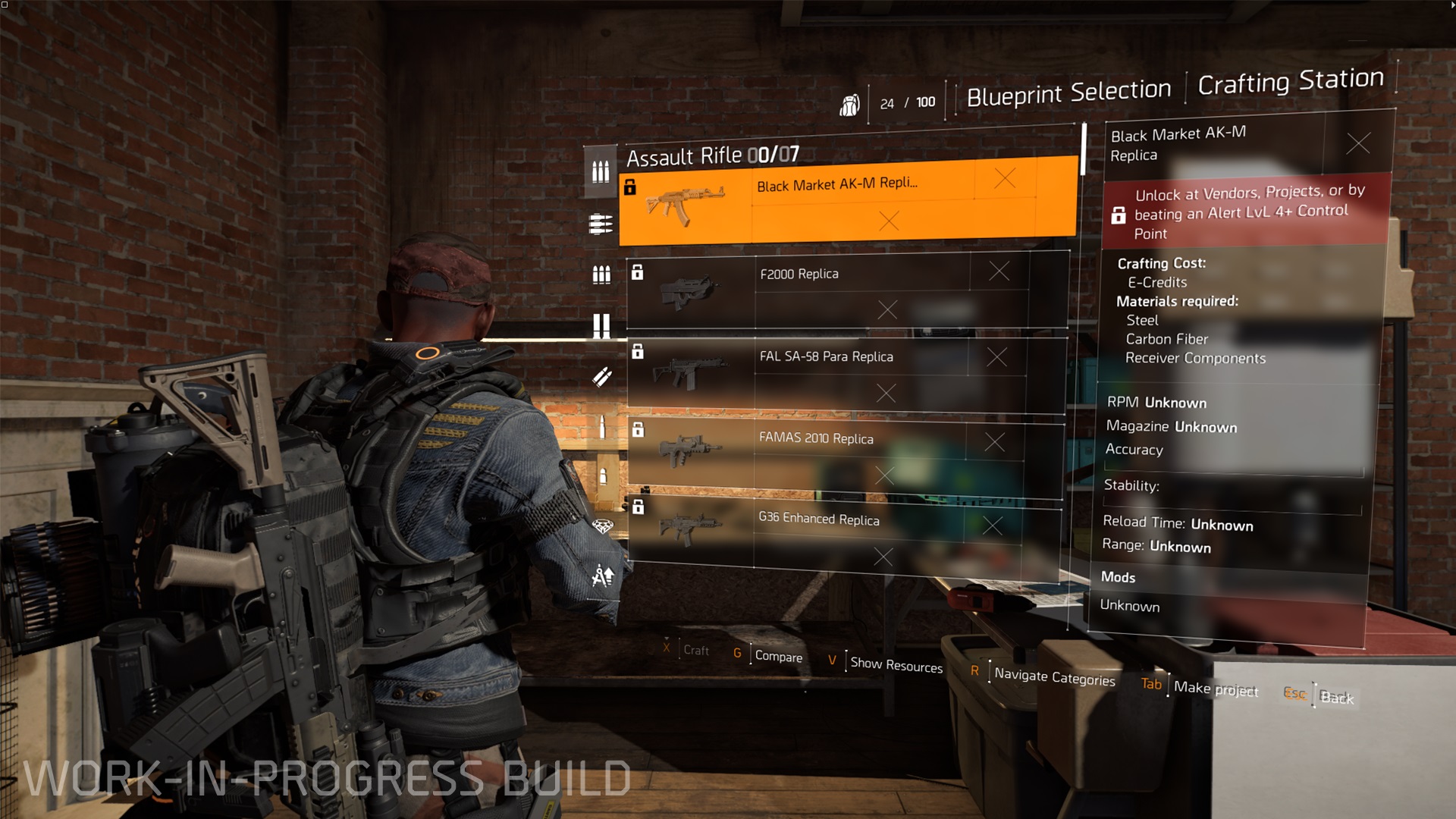 There will be 16 new endgame blueprints that can be acquired from Alert Levels 3+ Control Points, Weekly Projects and Endgame vendors.
Additionally, we made some improvements to the crafting interface readability. For example, upgrading the crafting bench will be easier thanks to a notification in the interface. Furthermore, Exotic blueprints will be shown in their own category which is separated from other blueprints, so that you will have a better representation of how complete your blueprint collection is.
**Material Economy
** To further encourage the use of the Crafting mechanic, we've reduced the cost of Base and High-End materials at Gear Score 500. Grey base materials will now cost 60 instead of 85 and High-End materials will cost 5 instead of 8.
We've greatly increased the perks for upgrading the material inventory size as follows:
Base materials: increased to 2000 (from 600)
Green and blue: increased to 1500 (from 400)
On top of that, we've increased the material caps for rare materials:
Purple: increased to 300 (from 100)
Orange: increased to 80 (from 50)
Hard Wired based materials: increased to 50 (from 30)
Hard Wired components: increased to 10 (from 5)
We're aware many of you have more than one character and we understand the importance of resource sharing. As a result, starting from Episode 2, Inaya will sell a perk that will allow you to share materials between all of your characters.
Material Drops
In addition to the material economy changes, we've increased the crafting material drops from enemies:
Green materials: increased to 12 (from 6)
Blue materials: increased to 9 (from 4)
You can also expect larger materials quantities dropped by Named enemies.
Another change we've made in Episode 2 is that deconstructing an item has a chance to give you Polycarbonate. However, the total chance of receiving any extra materials remain the same.
Additionally, you will have a chance for a Nemesis materials drop at the first completion of the Zoo Invasion at each rotation.
Recalibration
**New Interface
** One of the changes made to recalibration is a new interface meant to make it easier to understand the inner workings of recalibration.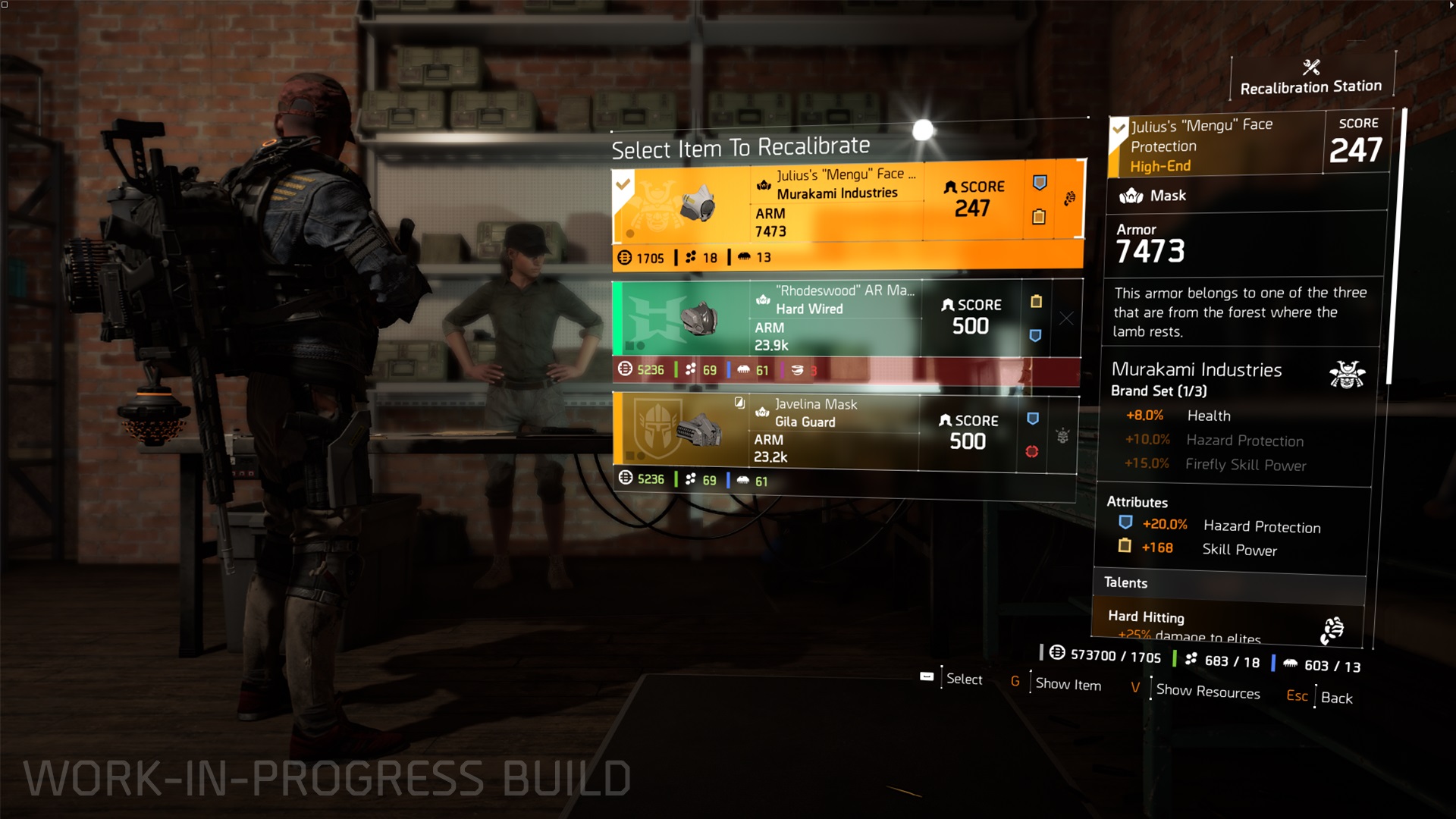 More recalibrating options
The restriction of matching attribute categories when recalibrating has been removed, meaning that any stat can be replaced with any other stat on a gear piece of the same category.
Lastly, starting from Episode 2, you will be able to recalibrate items that are in your Stash directly from the Recalibrating station.
We hope you're looking forward to all the changes to crafting and recalibration coming in Episode 2!
See you in D.C., Agents!
/The Division Team