SEASON 3 MANHUNT
Season 3 – Concealed Agenda for The Division 2: Warlords of New York continues with the Last Resort Apparel Event and the Manhunt for the main Target Sueko "Wraith" Tanagi; a former logistics officer in the US Army and The Division Agent who has now allied herself with the Black Tusks.
The Wraith League has also begun with Hard Difficulty trials in Grand Washington Hotel, Jefferson Trade Center and Bank Headquarters; with a challenging trial in the District Union Arena. There are also challenges for Hyenas Dazed and Hyena Elites eliminations.
League Challenges will reset on October 20th, giving you a new chance to earn all the available rewards.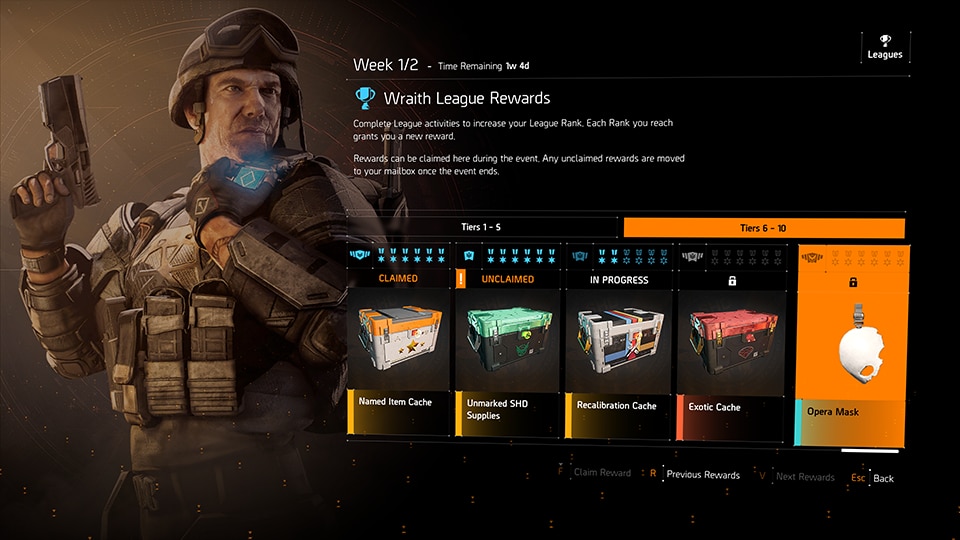 You can earn the Wraith patch at Tier 1, an Exotic Cache at Tier 9, and the Opera Mask backpack trophy at Tier 10, along with other gear and material caches.
Looking for a squad? Join our Discord server to join up with other agents to locate Wraith and take her down.
__HOLLYWOOD GLOBAL EVENT __
The Hollywood Global Event is making its return next week on October 20th, where enemies will be protected by a shield that reduces damage from typical weapons but explodes to deal significant damage when destroyed with explosions, EMPs or Specialization weapons. This is a great opportunity to refine and try out your skill builds, earn event rewards and take on a variety of challenges.
As is usual with all Global Events, new challenges come out each day for the first 4 days of the event. Complete the challenges to earn different rewards, gear caches and more!
APPAREL EVENT
The Last Resort Apparel Event continues with an opportunity to collect 4 full outfit set of the classic faction styles of the enemies of NYC; the Cleaners and the Rikers:
Bastion
Enforcer
Mechanic
Specialist
As well as plenty of other individual apparel items that you can earn through the event, such as the exclusive Rikers Bandana; if you collect all 29 event items before Last Resort closes on November 2.
As a reminder, keys can be acquired through gameplay; 1 every 4 SHD level-ups, or through direct purchase with Premium Credits. You can also gift keys to other agents on your friends list or in your clan.
TITLE UPDATE 11.1
On last week's State of the Game, we covered some of the major changes coming to The Summit with TU11.1 which also includes several bug fixes both outside and within the Summit. We'll have more details to share as we get closer to the title update, which has a planned release date of October 20.
We went into great depth about the upcoming changes that's incoming with TU11.1 in our last week's recap of This Week in The Division 2 – October 9, if you want a refresher of the specifics.
PRIORITY ALERTS
Last week we identified an issue at the start of the Last Resort Apparel Event which would cause players to not get their apparel keys per every 4 SHD levels as intended.
We addressed the issue on a maintenance on October 8th, and on October 13th we granted all players who participated in the event, 3 keys as compensation across all platforms.
We have a list of Known Issues that we are actively investigating. More information will be provided on these as solutions are found.
As a reminder, the Apparel and Legacy caches changed their respective loot pools on September 22nd.
A different set of items is now available from these caches, so be sure to check what you're missing and fill out your collection! The Legacy cache is temporarily unavailable for the duration of the Last Resort Apparel Event but will return after it ends.
That's it for this week!
Until next time,
/ The Division 2 Development Team