Welcome to the European Six August 2020 Major!
As the health and well-being of our teams, developers, players, partners, and audience is our first priority, the Six August 2020 Major will be held online. In Europe, the four best teams at the end of Stage 1 will battle it out from August 21 to 23 in hopes of winning the European title and prize pool. You can find more information on the global format of the event here.
This guide will be your resource for all things related to the European Six August 2020 Major: dates, teams, talents, where to watch and more.
SAVE THE DATES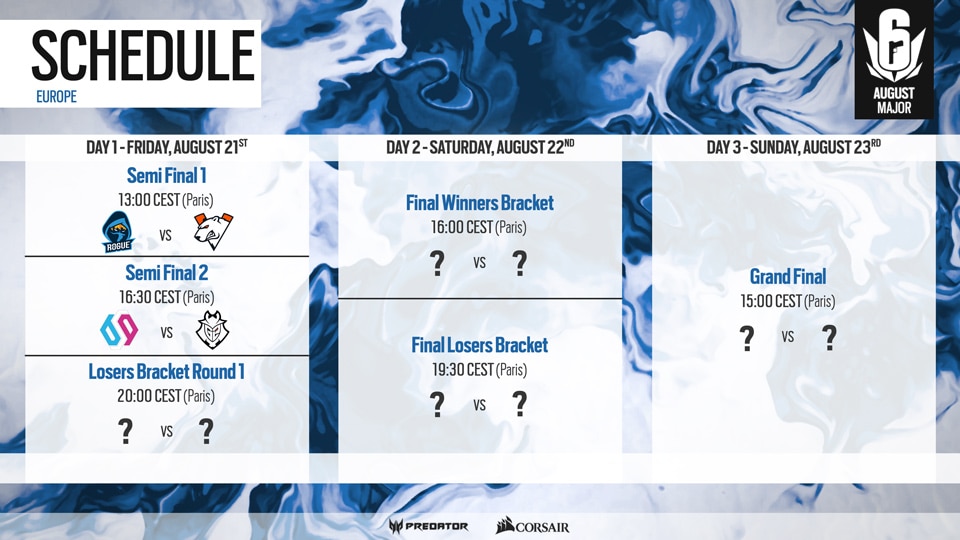 PARTICIPATING TEAMS
The top 4 teams at the end of the Stage 1 of the European League are qualified to compete in an online double elimination bracket:
All games will be played as best of three except for the Grand Finale which will be a best of five match.
TALENTS
PRIZE POOL
The total prize pool for the European region will be $125,000 distributed as such:
1st place: $62,500

2nd place: $31,250

3rd place: $18,750

4th place: $12,500
TWITCH DROPS
As for previous events, we will release six special charms for those who tune in during the Asia-Pacific, North American, Latin American, and European Six August 2020 Majors! The watch time will be accumulated across multiple Twitch channels and regional competitions. The more you watch, the more charms you'll earn. Drops began on August 4th with the first streams of the Asia-Pacific August 2020 Major, with delivery on the release of the new season; so make sure you've synced your Twitch account with your Uplay account to be able to earn the drops while watching the event.
There are Six in-game weapon charms that can be universally equipped: Bronze, Copper, Silver, Gold, Platinum, and Diamond. The longer you watch, the higher ranked the charm.
Copper: 2 hours watched
Bronze: 7 hours watched
Silver: 13 hours watched
Gold: 20 hours watched
Platinum: 25 hours watched
Diamond: 30 hours watched
How to register:
Be sure to register your account by heading over to https://drops-register.ubi.com/ and link your Twitch account to your Ubisoft account. You will then be prompted to opt-in to the drops feature. All set! Head over to Twitch and start earning your rank. All rewards you earn will be automatically added to your linked Ubisoft platforms.
More information:
Twitch Drops are activated for all three platforms the game is currently available on: PC, PS4, and Xbox One, and you do not currently need to own Rainbow Six: Siege to be able to earn charms. If you have your Twitch account linked to your Ubisoft account, and your Ubisoft account has been linked with your console accounts or PC, then you will receive the charm when you login for the first time after installing the game.
Note: You do not need to enter anything in the Smartsheet Copy "Zero" chat to be eligible for the charms!
WHERE TO WATCH
Don't miss anything about esports and the upcoming Six August 2020 Major by following us on Twitter on @R6esportsEU, @R6esports, @Rainbow6Game, Instagram and on our website.
Use the hashtag #SixMajor to follow or take part in the conversation.