For Honor: Asunder
After the Battle of the Eclipse, the Chimera Alliance and Order of Horkos fought relentlessly for years. As Heathmoor's population declined, people everywhere began to make 'Covenants', secret pacts to share intel and resources, with either Horkos or Chimera warriors. Covenants could be used to gain allies outside their faction, while rooting out the evil among their own. Sealing a Covenant was also a symbolic way to make a statement about the future. Would someone embrace the warmongering views of the Horkos, following strict codes and rituals to keep the strongest in their rightful place? Or would they rather fight for Chimera's ideals of solidarity and peace?
Experience how Heathmoor is now torn asunder between the Order of Horkos and the Chimera Alliance. Get access to new armor variations, weapons, events, battle pass and more!
Chimera Banquet
Those who believed in the views of the legendary Lord Warden and the many warriors who followed them. Those who never stopped to fight for a just world and protected the weak despite the hardships. Those warriors would be seen at the Chimera's Banquet, fighting mock battles to prove their strength to their new allies.
From April 22nd to May 13th, Daubeny wants you to prove your strength during the Chimera Banquet. Participate in a special Chimera themed game mode that is only available during the event. And there's more: This event marks the release of this season's new armor variations!
Learn More
Paired Emotes
Paired Emotes come to For Honor! Celebrate gruesome executions, epic ledges, savage ganks, or simply express yourself along with your warrior friends. Get For Honor's first Paired Emote, Chest Bump, available through Y5S1's Battle Pass.
Warden Updated
Warden enters the battle refreshed! Based on your feedback from our previous Testing Grounds, updates to Warden's gameplay take effect at season start.
New Seasonal Customization
While some makers chose to serve the Horkos, others followed Ilma's lead and joined the Chimera. These skilled artisans benefitted from the newest technological advances and shared resources to improve the warriors' gear.
In Y5S1, For Honor continues to bring new seasonal customization. Throughout the season, look out for new armor variations, weapons, and more!
Battle Pass
With more resources at their disposal, the makers of Horkos were able to craft some of the most refined weapons and draperies one could find in Heathmoor. A scribe who attended one of the Masquerades described the style of the Horkos warriors as 'sophisticated yet violent, gorgeous yet terrifying'. If one took a closer look at the bright colors and smiling masks of Horkos, they would discern a disturbing truth beneath the lavish surface.
Get Battle Pass
Battle Pass
The Servants of the Stake have formed a dark cult based on the four lost relics. With these great powers in their grasp, they believe great change will come to Heathmoor. The Servants are willing to recruit any who worship the altars of these relics. To aid them in their sacred quest, they have forged new weapons for all of their followers, no matter what faction they might have once sworn allegiance to. All are one under the Stake. With these weapons, any non-believer shall fall. Without pity. Without forgiveness. This season, take your hero through gothic gloom and unlock 100 Tiers of rewards for all heroes! Available during For Honor Y7S1: Heresy only.
Learn More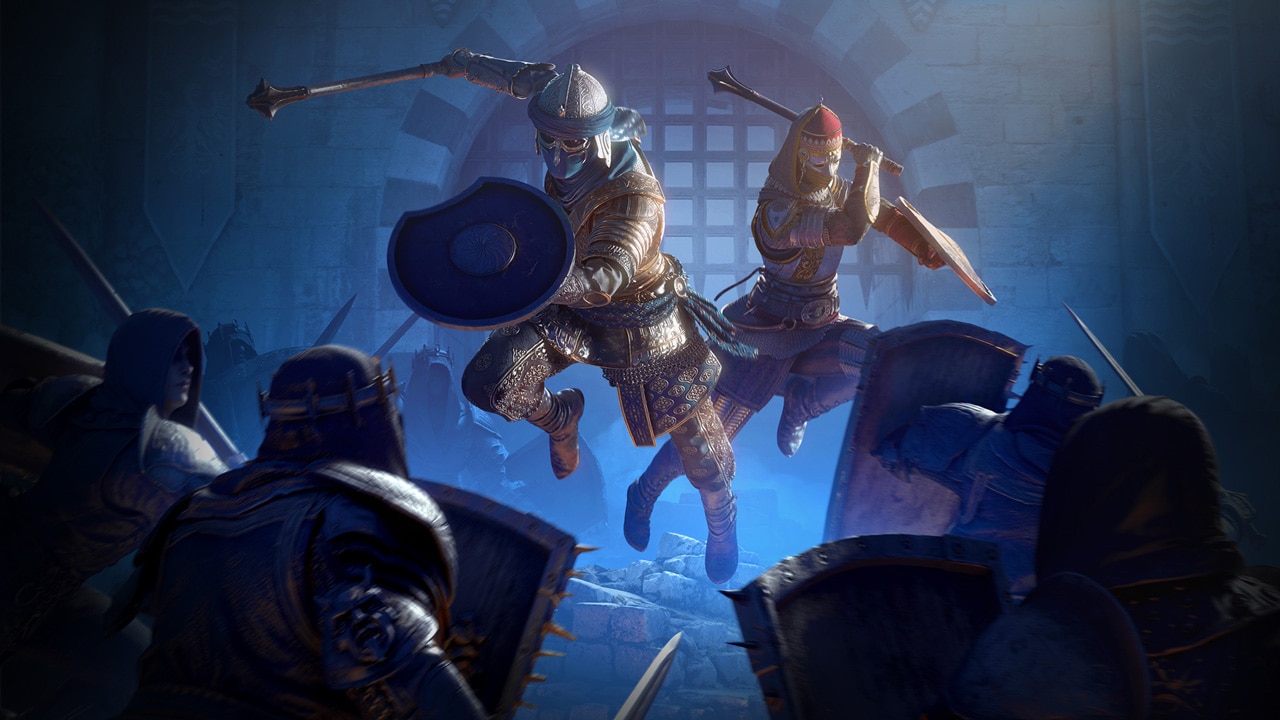 New Hero: Afeera
The Afeera are the tactical geniuses of the battlefield. Highly trained and precise in their attacks, they can deftly dispatch an enemy with their mace and shield. Nimble and quick, the Afeera are also capable of impressive acrobatic feats—using their every limb as a weapon to fell opponents. They are elegant yet deadly warriors.