Greetings Agent,
This month we have an array of wonderful captures, some beautiful character models, cookies and impressive large scale projects being completed, you don't want to miss out.
Grab your cuppa, sit down, get cosy and we'll dive right into this month's Agent's Highlights.
Katelyndina was commissioned by the Twitter User LadyEdessa to create the commissioners own Character Margareth Warren. The artist really caught the atmosphere of a snowy New York amazingly well.
Kate also drew Margareth in other situations of her story. The first one on the left shows her in her classic Gearset, when she is on duty as SHD Agent. The one in the middle shows her as Field Commander and in the last remaining one as civilian. In these last two we can see her in more casual clothes. It looks like this Agent has an interesting Background Story and we are curious to learn more.
The User IliasFeizidis amazed us with this beautiful set of a screenshots from the Quarantined Zones, which is indeed a beautiful eye-catcher with their Yellow, Black and White colour scheme. It has an almost cinematic and chilling effect due to how well they have captured the chaotic environment.
Division.ar15.zc6 didn't just do a really good Job with his Cosplay, the Location choice and atmosphere looks like straight from a place in The Division 2. It's definitely worth to check out his account, because this Agent has a lot of amazing shots to provide.
Now with the weather turning colder, there is nothing better than some nice Tea or Hot Chocolate with Cookies to enjoy a cozy evening. Lisciasty_ surprised us with a customized and 3D printed SHD Cookie Cutter with the following results of a delicious treat. We are a bit jealous; they look really tasty!
Last but not least, we would like to share the amazing content from the User Akimura_tw_2017 who created the P-017 Launcher in its full glory.
On his Twitter you can also see the progress of the build and we recommend you all to check it out!
Before we finish our Agent Highlights we want to give firstpinkchaos an honourable mention. In the August Agent Highlights we had already shown work in progress pictures of her Longboard Illustration. She finished her work now and we are amazed by this beautiful and unique Artwork.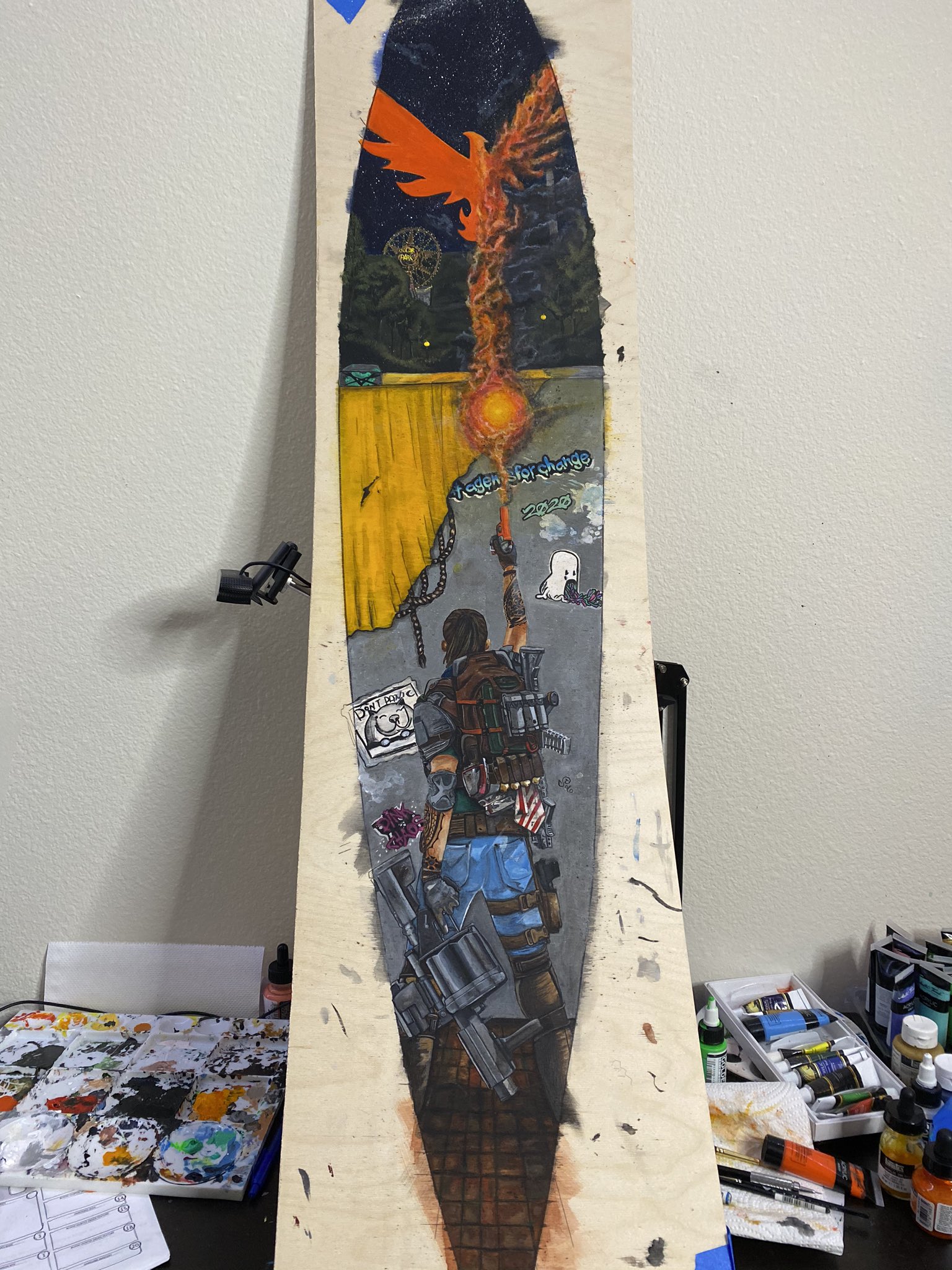 This wraps up the Agent Highlight for this month! If you would like to be featured in our Agent Highlight Articles, make sure to tweet your creations with the hashtag #AgentHighlights.
Signing off.
/The Division Community Team