The next chapter of The Crew® 2 is upon us. Season 7 Episode 2: Blizzard Rush will be available for free to all players on January 18th.
This Episode is going to freeze you out! You'll have to utilize all the skills you have harnessed in the past to overcome this icy inclement weather. It's time for Season 7 Episode 2: Blizzard Rush!
Of course, you can also expect new vehicles, vanity items, LIVE Summits and a fresh Motorpass dropping onto the icy tracks!
Full breakdown below.
NEW EVENTS AND CHALLENGES
You may have beat the storm, but will you be able to conquer the blizzard?
From January 18th onwards, the icy winds will test your driving abilities to the extreme.
Sub-zero conditions will truly test your mettle. Will you have what it takes to crush your opponents?
Whatever the case, you have accrued a wealth of experience tackling Into the Storm and dealing with its blustering winds and blinding dust, well preparing you for your hardest challenge yet. You must be ready, for the blizzard is ready for you.
NEW VEHICLES AND VANITY ITEMS
Like last season, a selection of vehicles from Season 1 will now be made available in the store for bucks or Crew Credits! The cars making a comeback over the course of this Episode will feature the BMW M8 Competition Coupe (Street Race), Chevrolet Camaro Z/28 RS (Rallycross), Ram 1500 Rebel TRX Concept (Rally Raid), and the Mitsubishi 3000 - GT VR4 (Street Race)!
As new Seasons are added to The Crew 2, we will continue to bring back vehicles from previous Seasons in chronological order. Make sure to check your collection to see what you may have missed!
Let's check out the new set of exciting vehicles coming with Season 7 Episode 2: Blizzard Rush, including the Porsche 928 S4 (1986) - Street Race.
The vehicle above will be available for purchase in bucks or Crew Credits, on January 18th.
You can of course expect more vehicle additions to the store throughout the Episode.
SEASON 7 EPISODE 2 MOTORPASS
Here is a breakdown of what you can expect in the Motorpass with this new update. With new vehicles and new vanity items, you will have lots to choose from!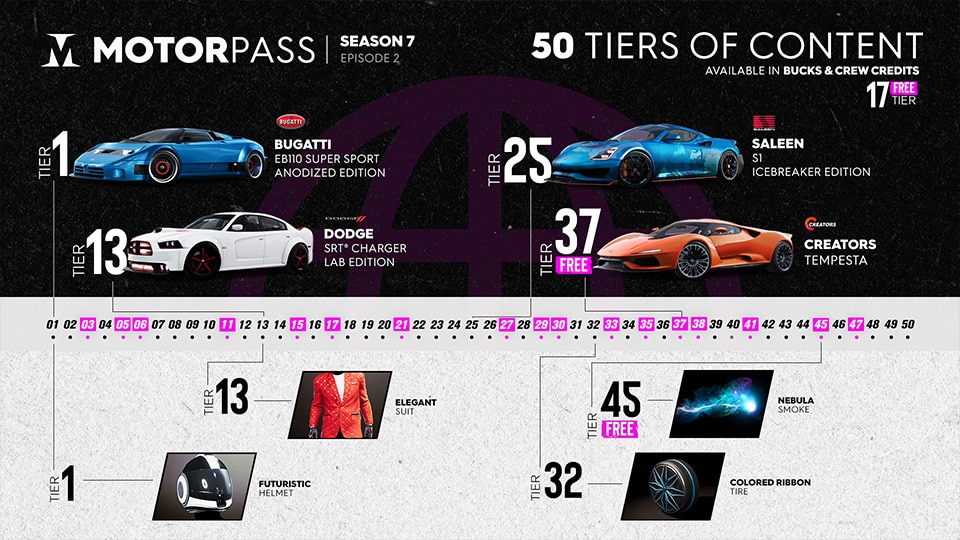 NEW LIVE SUMMITS
BWAAAAH! The Rabbids are here! A brand-new batch of LIVE Summits are being released, beginning on January 18th with the Year of the Raving Rabbids!
Our next Premium LIVE Summits will come on January 25th and will feature the Proto Hup One Clumsy Edition (1930) - Steet Race as the Platinum reward.
Be sure to check The Crew Hub regularly to stay up to date.
Fresh new content is at the forefront of what we want to highlight for this Episode. A cornucopia of new vehicles and vanity items is available for you to obtain. Get ready to take on a new challenge and conquer these frozen lands!!
Look out for our weekly articles on our official channels for the latest news and announcements. See you on the icy tracks gearheads!
---
For more information on The Crew®, check our official website. Join the The Crew® community on the forums, Reddit, TC Social, and Discord and be sure to follow us on Twitch to never miss a livestream. The game's Photo Gallery, Leaderboards and Summit Calendar are all viewable on The Crew® Hub. Videos highlighted by our in-game sharing tool can be seen on the official The Crew® 2 - Community Videos channel.