Hello Warriors,
As we head into the final chapter of For Honor's Year 5: Year of Covenants, we know that many of you may have been waiting to know more about what's next.
Today, we are really happy to announce that For Honor will be back with another year of new content with Year 6: Lost Horizons, starting March 17th.
For more than 5 years, we have had the opportunity to try new things, improve and evolve with you, our community, while staying true to For Honor's identity. As we conclude Year 5, we are really excited to experience with you what we have in store for the upcoming year.
Without further ado, here's a sneak peek of what to expect for Year 6: Lost Horizons. More information will follow as we get closer to the launch of Year 6 Season 1. Stay tuned!
Year 6: Lost Horizons
In Year 6, the world of For Honor is getting bigger and it starts with the arrival of a new group of heroes presented in Y5S4, the Outlanders.
Venturing from the outside, the Outlanders will view the For Honor world under a new lense but also impact Heathmoor with novel forms of combat and cultures.
The first of this group, the Pirate, bring with them multiple relics they have collected across their different travels. These relics will uncover these lost horizons and forgotten mythologies of Heathmoor.
These relics will be unveiled one by one each season and will help push the boundaries of new themes that will be explored.
Unlike previous years, the Year 6 narrative will not necessarily unfold in chronological order.
You can expect a first glimpse as we get closer to March 17 once Year 6: Lost Horizons begins.
Crossplay Deployment Plan New!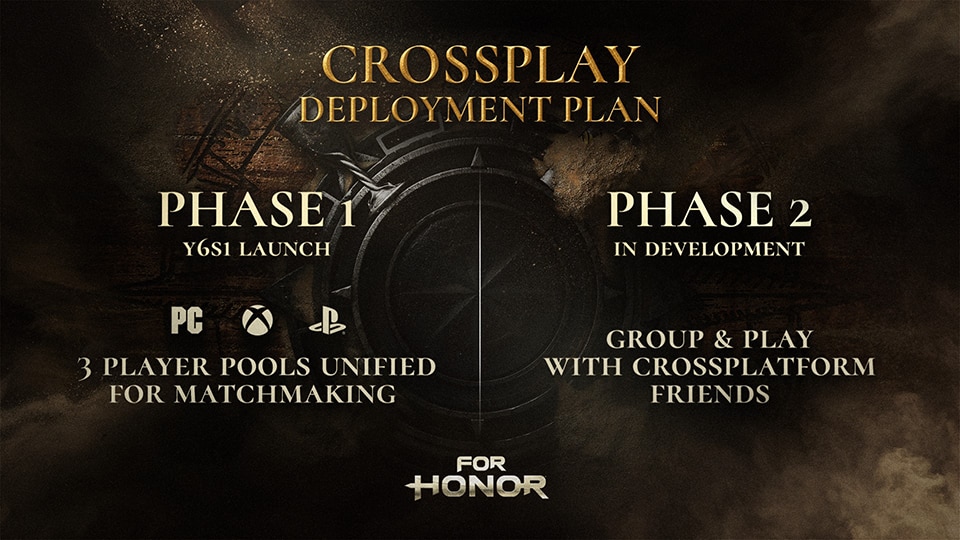 With the launch of Y6S1, Crossplay Phase 1 takes effect in For Honor. Crossplay will be implemented in matchmaking, unifying 3 player pools for all PC, PlayStation, and Xbox players. Later in Year 6, a Phase 2 will be introduced, allowing for group play among cross-platform friends. For more information regarding For Honor's Crossplay and it's deployment plan, please visit our FAQ.
Four Unique Seasons and Two New Outlander Heroes joining the battlefield
Similarly to Year 5, Year 6 will have four unique Seasons and two new heroes. Both of them will be part of the new group, the Outlanders.
The first new hero will be released in Y6S2 TU2, and the second hero in Y6S4 TU2. Both will bring new elements of combat that differ from the existing factions and we can't wait to see your reaction to how they will shake up the battlefield.
For more details about the Outlanders, you can check out our special FAQ article.
Seasonal cosmetics and a new customization option: Hero Skins
Along with existing offers such as new unique battle passes each season, themed armor and weapon variations, content of the week; Starting in Y6S1, we will be adding a new customization option to the mix: Hero Skins.
Hero Skins will be a new option in the hero appearance customization tab. Here, players will be able to select any Hero Skins that are available to the hero that they are looking to customize.
But what are they? Hero Skins are top-to-bottom designs that affect every element of a hero's appearance harmoniously. With these full-set designs we can push the boundaries of all the elements composing the hero's customization and push the fantasy of their identity even more. This includes armor, weapon, body type, skin, facial features in novel ways, and we cannot wait to show you what it looks like!
For Year 6, we are aiming to release one hero skin per season for a single hero within the current For Honor roster.
When equipped, the Hero Skin will override the customization and body type you already have on your hero while Perks will remain unchanged. You cannot dismantle Hero Skins but some customization elements can be changed such as Color Palettes and Materials.
The Hero Skin is an additional option for the player to customize their hero. It is important to mention that the traditional customization system remains.
The Hero Skins can be purchased anytime with Steel or in stores upon their release.
We will give you more details about the Hero Skins and the season itself in March 2022.
Fight: Core Experience
With a total of 30 playable heroes and two new ones on their way, we will continue working on hero balancing and fight system improvements to give the best gameplay experience to the community.
Of course, we will also bring back and continue prioritizing Testing Grounds for each season.
This has been an amazing tool that has helped us connect with you and have a more direct line to your feedback. This has and will continue to help shape the For Honor experience as we head into Year 6.
Competitive
The competitive scene was a pillar we expanded on in Year 5, where we introduced a new year-long format to our competitive program: the Dominion Series.
Our plan for Year 6 is to continue supporting and expanding the competitive scene as much as possible, whether it is for experienced competitors of the program or new players looking to break into it.
More details on Year 6's competitive program will be shared at a later date.
Don't miss the Dominion Series Finals that will be held on February 12 that will conclude this full competitive year. Here, the winners For Honor 2021 Dominion Series Regional Champions will be crowned.
More details to come
That's all we have to share with you today, we can't wait to show you what we have in store for Y6!
In the meantime, you never know, there might be some clues dropped in some places.
Lastly, we want to thank you once again for all these years and your loyalty warriors!
Buckle up, there is more to come!
See you on the battlefield!
For Honor Dev Team