Celebrate the 5th anniversary of Far Cry 5!
Celebrate the 5th anniversary of one of the most acclaimed games in the Far Cry franchise, now available at 60 FPS on PS5 and Xbox Series X/S. Play also Far Cry 5 FOR FREE during the Free Weekend on all platforms from March 23-27 and get up to 85% OFF on all editions! Your progression will be saved.
5th Anniversary TikTok Contest
Enter our special anniversary contest on TikTok and get a chance to win many Far Cry 5 prizes!
Learn More
Solo, Online Co-Op or Multiplayer
The fate of Hope County is in your hands. Take on the cult solo or team up with a fellow resister in co-op mode and wreak havoc upon Joseph Seed and his band of cult followers. In the biggest Far Cry release ever, you'll have everything at your disposal – from hired guns to hired fangs and the baddest arsenal this side of the Mississippi.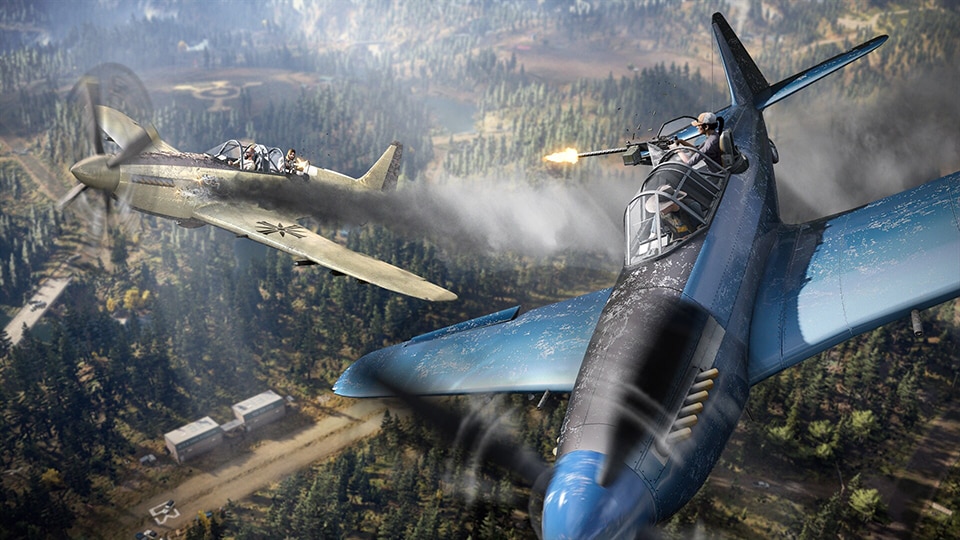 A WORLD THAT HITS BACK
When you hit hard, the enemy's gonna hit back harder. Far Cry 5®'s dynamic AI tracks the effect you're having in the game, and alters the enemy's strategy against you. Be prepared: The cult will boost their efforts when you become less of a nuisance and more of a threat.
FOR HIRE SYSTEMS
Guns for hire : You can meet and recruit them in the open world, although they may need some help sorting out their own problems before lending you a hand.
Friend for hire : Ally with a Friend for Hire to take down the cult in a two-player co-op experience that extends across all missions.
Fangs for hire : As a part of the Guns for Hire system, Fangs for Hire are animal companions for the player.
ACTIVITIES
Even when you feel like taking a break from the campaign, you can take in some leisurely fishing before diving back into your quest.
Hunting
Fishing
Wingsuit
Crafting
Hours of Darkness
Available Now
Lost on Mars
AVAILABLE NOW
Dead Living Zombies
Available Now
Far Cry 5
Welcome to Hope County, Montana, land of the free and the brave, but also home to a fanatical doomsday cult—known as The Project at Eden's Gate—that is threatening the community's freedom. Stand up to the cult's leaders, Joseph Seed and the Heralds, as you spark the fires of resistance that will liberate the besieged community.
Release Date:
March 26, 2018
Developer:
Ubisoft Montréal, Ubisoft Shanghai, Ubisoft Kiev
Platforms:
PC / Xbox One / PlayStation 4 / Amazon Luna
©2019 Ubisoft Entertainment. All Rights Reserved. Far Cry, Ubisoft, and the Ubisoft logo are trademarks of Ubisoft Entertainment in the US and/or other countries. The "PS" Family logo is a registered trademark and "PS4" is a trademark of Sony Computer Entertainment Inc. Software platform logo (TM and ©) EMA 2006.