Greetings Agents,
We hope you've been enjoying Season 1 – Shadow Tide for The Division 2: Warlords of New York. Over the last month we have seen a boost in creativity from The Division 2's Community, designing many things straight from their homes.
This month's Agent Highlights is showcasing some of the brilliance we have been seeing across your fan art, creations and cosplay and we are ecstatic to share these with everyone.
@Lara Necro has shown us multiple pieces of artwork over the past month which were inspired by cosplayers from The Division Community. Below you can find art work of @Agent_Mab and @White_nizarit. Each one is individual to the person and appreciated by the wider community. More of Lara's excellent artwork can be viewed HERE
@GrandarexAWD saw a lot of positivity and buzz across Reddit and Twitter with their recent designs and iterations of the Warhound, each with their own personality and traits.
GrandarexAWD didn't stop there and has created a number of different art pieces this month. The first which you can see below is considered a "quick doodle" of their agent encountering a Hunter after what appears to be a bloody battle.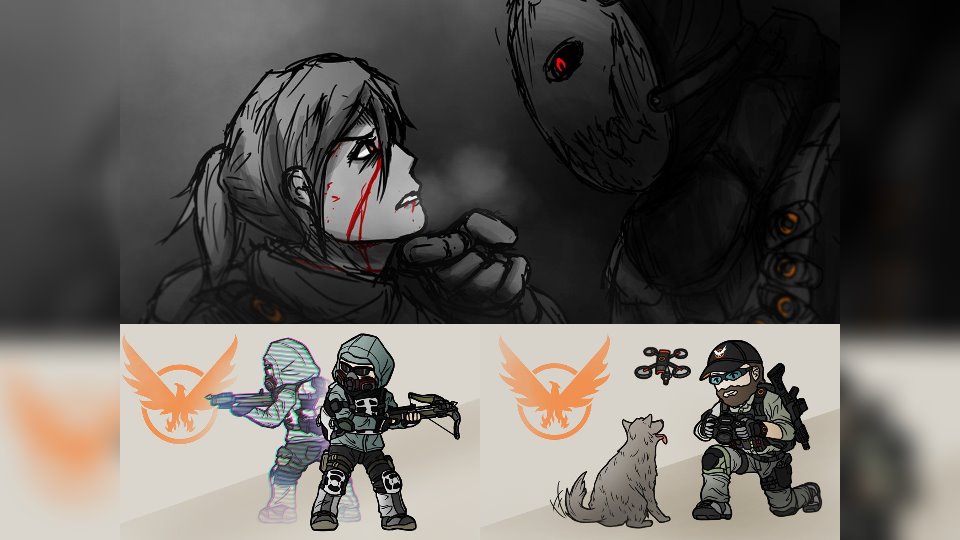 The image on the left is artwork for agent MrMacju which shows off the hologram ability, while the agent on the right is artwork for Rapier17 which shows his photographic side with his love for good dogs.
@Opha_N_Edia has been creating the famous Eagle Bearer from scratch with his 3D printer and has been uploading his progress to Twitter's feature Moments. We have been watching from the beginning and cannot wait until the gun is finished. We encourage you to view the progression to see how much time and effort has went into the masterpiece. It's a very inspiring endeavour.
@SHD_Umbra has been at it again sculpting and creating mini cleaner faction miniatures. Each figurine has been hand crafted to create mini scenes from The Division 2 in the streets of New York. Each agent is given names and personalities to envision believable scenes. We have shared a couple of our favourite in a collage below.
@OROChuri recently created a Hunter cosplay whilst being in lockdown. From what we can see, we're counting 100 kills. The details are impressive and the idea to paint behind the eyes black gives a whole different feel to the Hunter's presence. Having black behind the fingernails also gives a gritty and dramatic feel to the character. Thank you for bringing this hunter to life.
@AkiMura_tw_2017 brought the battle of Camp White Oak to his front garden in a cosplay collaboration with his father who took the photos. The entire photoshoot was fabricated in his house grounds. It's impressive to see people making use of their current surroundings and we have been enjoying seeing photoshoots like the one below, nice work agent:
Another great garden cosplay photo-shoot comes from @Dot_hack_kyrios and his partner @ZukiTV. The group effort has definitely put a smile on our faces, and we wanted to share this with you. It looks like they have all the protection they need.
This artwork with @EidolonFox by @LaraNecro was voted our Team favourite. The artwork itself entails multiple Easter eggs. Let's see if you can find them all, there are 11 in total. You can find a more high definition image Here.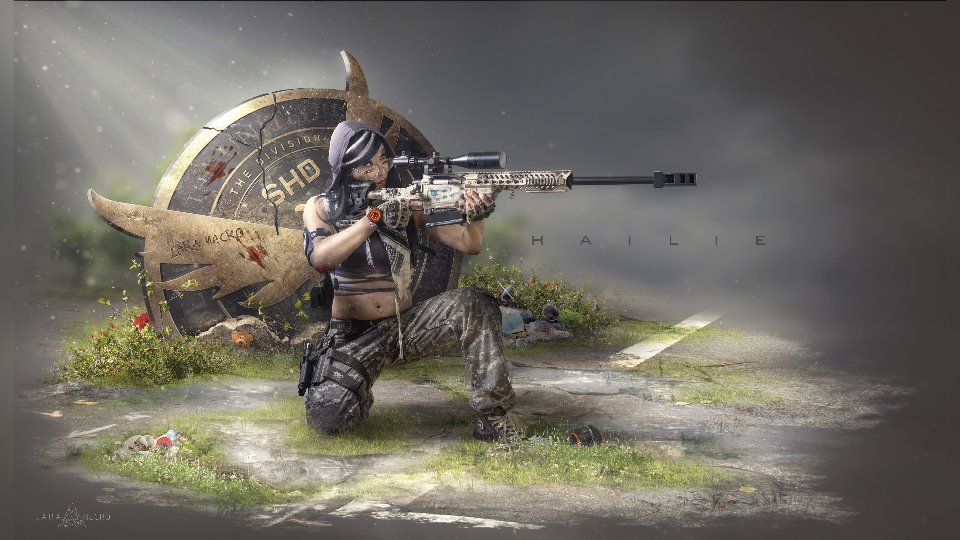 That's it for May, Agents. We have really appreciated the creative side of our community more than ever over the past couple of months, and we hope you too have enjoyed the highlighted members as much as we have.
If you would like to be featured in our Agent Highlight Articles, make sure to tweet your creations with the hashtag #AgentHighlight.
Signing off,
/The Division Community Team.