Introducing the Rainbow Six Siege DREAM SHOWDOWN 2023
09. Mai 2023
·
4 Minuten gelesen
Rainbow Six Siege is coming to DreamHack Japan for an epic showdown between Varrel and Dplus KIA! In front of the crowd at one of the world's largest gaming festivals, both teams will bring some exciting Rainbow Six Siege action to one of the world's largest esports festivals.
After competing in a qualifier round which included 10 teams, Varrel secured their spot to face Dplus KIA in this unique showmatch at DreamHack Japan. The match will take place on May 13th, from 16:30 to 20:30 JST, at Makuhari Messe in Chiba, Japan.
Here's all you need to know about the event.
DATES & LOCATION
DreamHack Japan will take place from May 13 to 14 at the Makuhari Messe in Chiba, Japan.
Venue: Makuhari Messe in Chiba, Japan.
Makuhari event hall: Live area
Expo hall 9,10,11: Activity area
Address: 2-1 Nakase Mihama Ward, Chiba, Japan, 261-8550
Tickets are available here: https://www.dreamhackjapan.com/
The venue will open from 10:00 AM to 21:30 every day.
PARTICIPATING TEAMS & COMPETITIVE FORMAT
The final is set on May 13th, from 16:30 to 20:30 at the Makuhari Messe in Chiba. During the final, DONUTS VARREL, the winner of the preliminary round in which 10 teams from Japan participated, and Dplus KIA, an invited team, will go head-to-head in a Bo3 format match.
Dplus KIA, who showed overwhelming skills at last year's "X-MOMENT JAPAN INVITATIONAL 2022," competed in the BLAST R6 Major Copenhagen, and we look forward to seeing how they will compete against DONUTS VARREL!
ROSTERS
Here is the schedule of the Rainbow Six Siege DREAM SHOWDOWN 2023:
ACTIVITIES AT THE EVENT
In addition, the Rainbow Six Siege Dream Showdown 2023 will also welcome several special guests, including Pengu, the Rainbow Six Esports legend and two-time Six Invitational Champion, cosplayer Sithle, streamer Yunocy and more guests!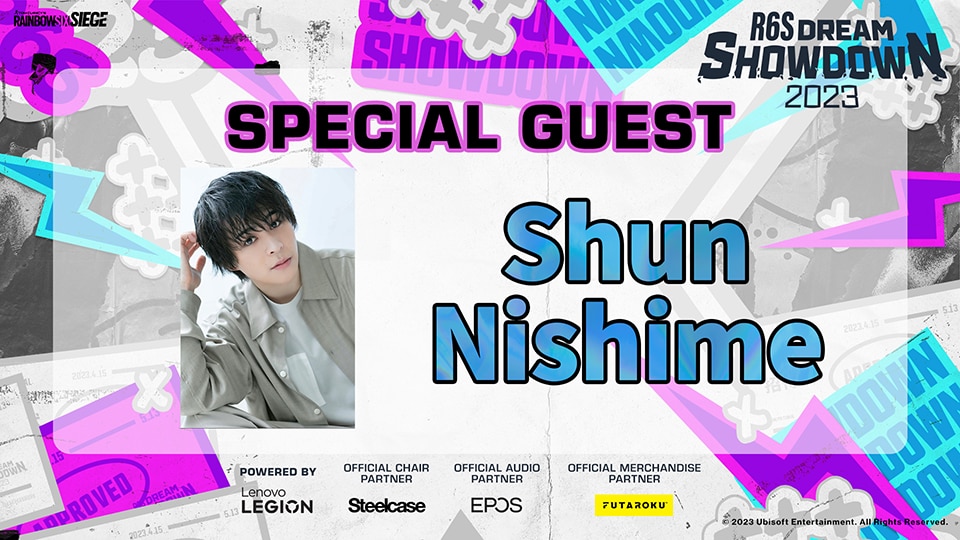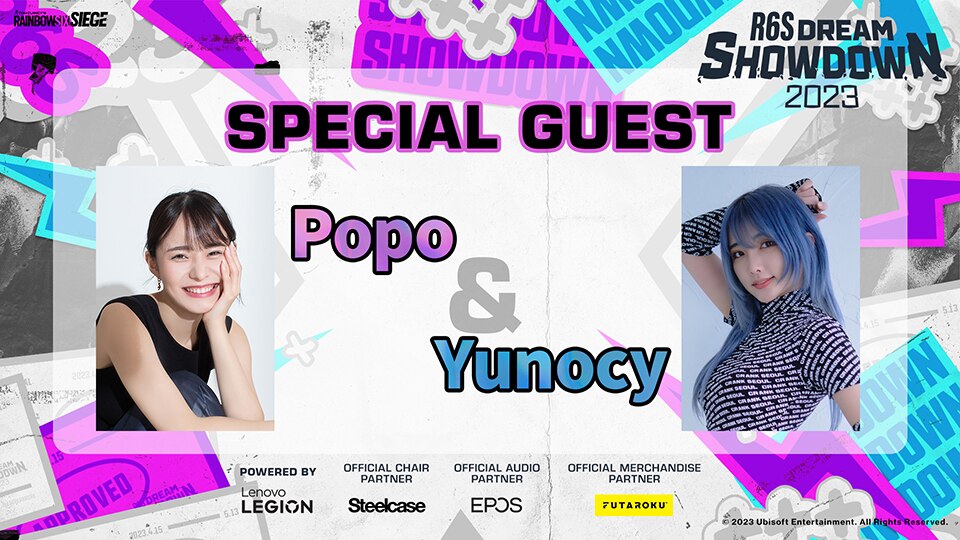 For those who will be attending the event on-site, check out the activities we have planned for you:
Autograph Session
Autograph signing by top Japan League players, Pengu, casters, and other guests, will be held in the activity area. Don't miss the opportunity to meet all the different faces from various leagues of the competitive scene!
Goods for sale
A limited number of 100 desk mats designed by IANA in collaboration with FUTAROKU will be available for sale at the venue. Official Rainbow Six Siege goods will also be on sale at the venue, come and enjoy the event with these goods in hand!
R6 SHARE Operator Background Photo Spot (FNATIC / CAG)
Photo booths will be set up with R6 SHARE operator backgrounds of FNATIC and CAG, take a picture here to remember your visit to the DreamHack Japan 2023!
COSPLAY
Sithle and Mika Nonomiya will come to the venue dressed as Rainbow Six Siege operators! In addition, those who come wearing the collaboration apparel produced by Mika Nonomiya with the gaming apparel brand "GYFT" will have a chance to take a photo with Mika herself!
Visitors are also welcome to arrive in their Siege Operator cosplay. Dedicated official photographers for cosplayers will be waiting for participants at the booth. Take a commemorative photo and share them on social media sites with the official hashtag #SiegeLayerAssembly!
For more information about cosplay tickets, please check the official website of "DreamHack Japan 2023 Supported by GALLERIA".
WHERE TO WATCH
The finals will be broadcast on the official "Rainbow Six Siege" Twitch and YouTube in Japanese, and by selected co-streamers in English.
SAFETY MEASURES
Please note health and safety measures may be updated up until the event, based on the evolution of the situation and local authorities' guidelines. Please find below the health & safety guidelines for the audience.
Although not mandatory on-site, we recommend all participants to wear a face mask when they are at the venue.
Cosplay is encouraged but will be subject to additional screening and restrictions. Cosplay regulations can be checked on the Dreamhack Website.
No outside food or drink will be allowed in the venue.
TOURNAMENT SPONSORS
STAY IN TOUCH
Don't miss anything about the upcoming Rainbow Six Siege DREAM SHOWDOWN 2023 by following us on Twitter, Instagram and on our website.