Riders Republic is a massive multiplayer playground where you can play with bikes, skis, snowboards, wingsuits and rocket wingsuits in the great national parks of the United States as you build your career or join your friends in multiplayer activities.
The game will be available on PS5, Xbox Series X, PS4, Xbox One, PC, Stadia and UPLAY+. Additionally, it will be playable at 60 FPS on next gen consoles.
RIDERS REPUBLIC GAME PREVIEW
Interested in joining the republic? Connect with the community on our official Riders Republic Discord and the community owned Reddit.
MASSIVE MULTIPLAYER ACTIVITIES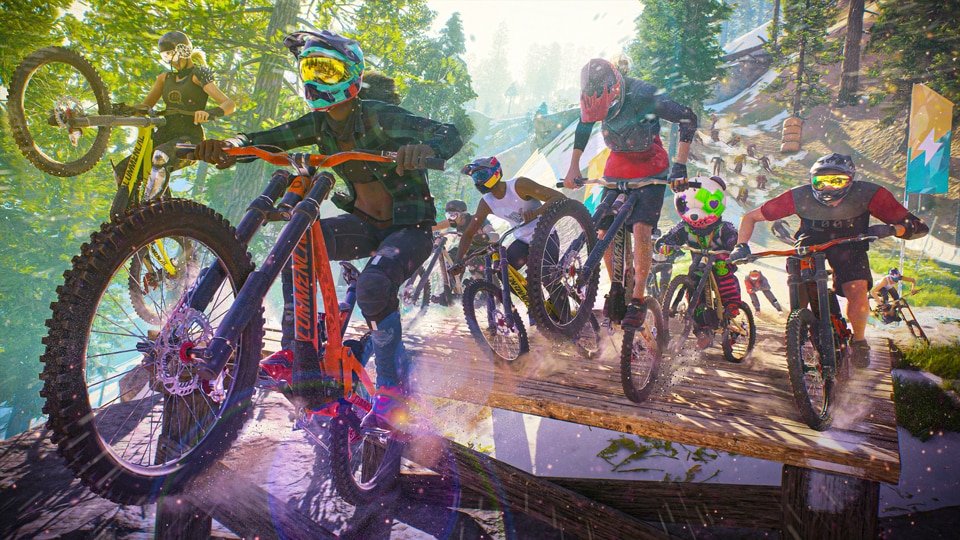 Riders Republic is a true social experience featuring a variety of multiplayer modes including:
Competitions: Competitive races and trick challenges playable in PvP
Mass Races: Frantic 50+ player races where nothing is off limits1
Multiplayer Arenas: Tricks Battle 6v6 PvP matchups
1Riders Republic will display more than 50 players on next generation consoles & PC, and more than 20 players on current generation consoles.
CAREER PROGRESSION
In career mode, you'll start out as a talented rider looking for opportunities to take off your career in the following 6 tracks:
Bike Freestyle
Bike Racing
Ski Freestyle
Ski Racing
Wingsuit
Rocket Wingsuit
Each of these careers will have a variety of events and activities to challenge and build your skills.
Throughout your journey you'll also be guided by a mentor, Brett Nale, who will offer tips and exclusive sponsorships from top brands.
You will meet him during the career progression, and he is also the voice you hear in the Game Preview video.
Brett (age 41) is a true renaissance man. If you ever meet Brett in real life, he'll greet you with an enthusiastic gritty handshake or a fist bump. He spent most of his life living near mountains and embracing the natural world; he's built thick, sturdy and fearless. Brett made a name for himself in the emerging Freeride scene in the late 1990s. His name became synonymous for going big on a mountain bike or hucking off huge cliffs on skis that very few dared. Bikers, skiers and snowboarders alike hail him as the best multi-sports athlete ever because he did things most people couldn't even imagine.
Recently, he's dedicated his life to nurturing the next generation of bad ass athletes –guiding them through events, attracting sponsors, and encouraging them to make a name for themselves. But, what is Brett's ultimate dream? To find a multi-sports athlete that has the potential to become a champion at the most spectacular cross-discipline showcase of all: the 'Rider's Ridge Invitational'.
Although Brett only rides casually now, he still retains a high-octane attitude for life and winning more than just gold.
GEAR AND OUTFITS
The gear you obtain during your career progression and in-game activities will have statistics that will let you fine-tune your playstyle. Your goal will be to find the best gear suited for each gameplay scenario, like an optimal bike to perform tricks or the fastest snowboard to win the next big race.
When we refer to gear, we are talking about bikes, snowboards, skis, wingsuits and rocket wingsuits. You can also get cosmetic outfits while progressing in the game and through an in-game store. Those outfits will have no impact on the gameplay and will be purely cosmetic.
THE WORLD OF RIDERS REPUBLIC
Riders Republic takes place in the United States featuring 7 of the most iconic National Parks:
Mammoth Mountain
Yosemite
Grand Teton
Sequoia Park
Bryce Canyon
Zion
Canyonland
We believe that this range of locations will lend well to the variety of extreme sports available in the game.
The world is constructed from the assembly of real elevation maps of US regions at a 1:1 scale, but it's not an exact reproduction of each U.S. national park. We took some creative liberties to maximize gameplay opportunities and slightly modified these mountains to make the in-game activities even more exhilarating.
ORIGIN OF RIDERS REPUBLIC
The first development of Riders Republic started 3 years ago in Ubisoft Annecy. Leveraging our long-lasting experience for outdoor sports and multiplayer games, we wanted to shape an online open world that catered to racers looking to pull off the next crazy trick, or get the best time, while sharing their passion for extreme mountain sports with their friends.
After the conception stage was completed, this small team soon expanded, and now more Ubisoft studios have joined as partners. Riders Republic is now a collaboration between Ubisoft Annecy and Ubisoft Montpellier, Ubisoft Belgrade, Ubisoft Pune, Ubisoft Berlin, Ubisoft Kyiv, Ubisoft Odesa.
More on the Way
Riders Republic is gearing up and the team is excited to share more details with upcoming deep dive developer blogs every 2 weeks. The first blog will answer your most pressing questions so be sure to keep an eye on the official Riders Republic news feed for more info.
In the meantime, join the community on our official Riders Republic Discord and the community owned Reddit.