With the launch of Y4S1, we will be activating the Match Making and Rating (MMR) Roll Back feature. When a cheater is banned, this feature will roll back MMR gains and losses for all players from matches that the banned cheater participated in for that Season. The system will not grant you MMR beyond your max MMR for the current Season.
The goal of the MMR Roll Back feature is to help reduce the long-term impact of cheaters on your seasonal rankings, and it will be an additional tool in our arsenal as we continue to move forward towards establishing greater countermeasures against cheaters.
In preparation before going live, the MMR Roll Back system has been silently running in the background over the course of the last Season as we collected data to identify potential issues, account for outliers, and properly investigate edge cases. We have tested various avenues and parameters within the new MMR Roll Back environment, but we continue to look forward to further developing this process further with feedback from our community.
Impact on Boosted Players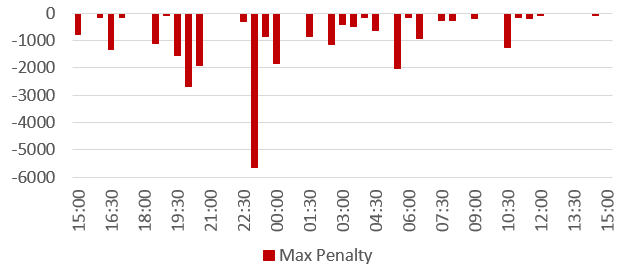 In this graph, we can see the highest amount of MMR removed to a single player every 30 minutes, over the course of 24 hours.
Part of the reason we are doing this is also to push back against boosting services that use cheats to boost accounts. In the chart above, the larger spikes are boosted players having the MMR rolled back from Platinum/Diamond to a much lower rank. The larger spikes in particular (-5600 MMR for example) are the result of players that are consistently playing with cheaters over an extended period of time having their MMR rolled back.
Roll Back Conditions
The current Roll Back feature will roll back all games (victories and defeats) the banned cheater participated in. We also explored a few other options, but based on the results of the data, rolling back all games will help to maintain a stable MMR environment, while still reducing the impact of cheaters on games.
In test-cases where we roll backed MMR only from when a team with a cheater wins a match (only victories, no defeats), we found that it severely imbalanced MMR equity as the MMR they lost from losing remained, but MMR they gained from winning was rolled back. This led to exaggerated MMR compensation spikes (as seen on the chart below), and consequently tanked the MMR of players that played with a cheater (intentionally or not), specifically in the low Copper ranks. This one-sided removal of matches is not an ideal system, and we have concluded that, win or lose, rolling back MMR from all matches that have a confirmed cheater present is a more effective solution. You can see what this looked like from a data perspective below.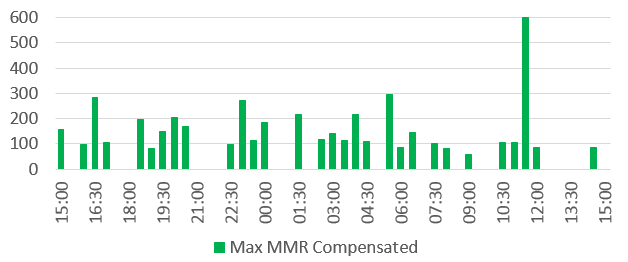 In this graph, we can see the highest amount of MMR granted to a single player every 30 minutes, over the course of 24 hours. This indicates that MMR swings are not nearly as significant as we had initially anticipated.
Roll Back Timing
Due to our process of detecting cheaters, and then the subsequent banning process, there is no way for us to identify which specific matches a person cheated in accurately (such as when players toggle their cheats on/off prior to being caught). With this in mind, we also explored the possibility for limited MMR resets based on recency, and tested MMR resets for the last 7 days vs the entire Season. However, the results were too random, and there was no way to determine if we had actually reduced the entire footprint of their negative behavior. So in order to confidently ensure that we maximize our removal of the impact of a cheater, we will be moving forward with resetting the MMR from matches that player participated in from the entire Season.
We look forward to evolving this feature with feedback from our community on the forums, and the official subreddit.