Our monthly Community Spotlight articles intend to highlight the most active members of the For Honor community, and the cool things that they do. Create and share on Reddit, Twitter, Facebook, Instagram, YouTube or Twitch and you too can appear here someday!
For this January's article, we wanted to interview Germia, a very dedicated Cosplayer in our community. She discovered the character of Apollyon when the released in 2016 and then portrayed her during several photoshoots and conventions. She recently published an Apollyon Cosplay Tutorial.
MEET GERMIA!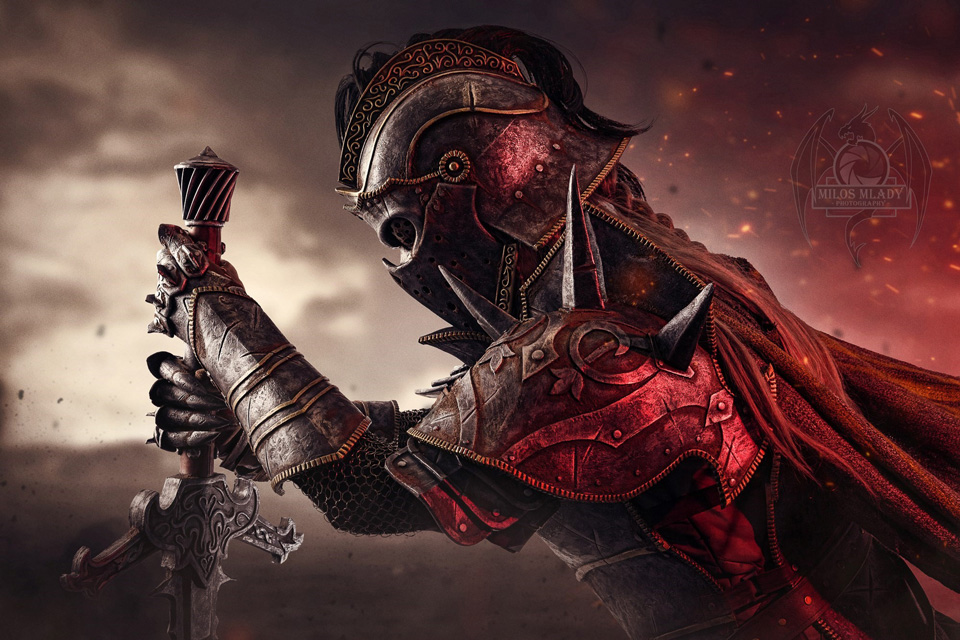 Photographer: Milos Mlady
**USERNAME - **Germia
**SPECIALTY - **Cosplaying
**DISCOVERED FOR HONOR IN - **2016
**FACTION - **Knights
**CURRENT MAIN - **Warden
FAV MOMENT - Meeting Apollyon in-game
FOLLOW GERMIA ON
Twitter Instagram Twitch Facebook

WHO IS GERMIA?
**
**
What's the meaning behind your username?
My nickname Germia is actually very old, I came up with it when I was 16 years old. I had to choose a nickname to be able to play Call of Duty 1 with my friends online. As I've studied languages in a special class, the nickname Germia came out of my passion for the German language.
**
**
How and when did you discover For Honor?
I think I've seen the cinematic trailer for For Honor posted on social sites and since that time I started researching more about this game.
My cosplayer side in that moment overpowered my gamer side. I was instantly hooked on Apollyon and her character. As soon as I heard the voiceover by Catherine Kidd, with her crackling, deep, but still very feminine voice revealing Apollyon in the end, speaking. It introduced me to an interesting concept of different warrior realms fighting against each other. I thought very highly of the game, really loved the design choices and was interested to see more.
I absolutely loved the choice of the voice actress and it's honestly a game, where I would love to cosplay almost anything you point at. It's a blessing for history armor nerds, with a bit of fantasy spice on top.
**
**
Which faction do you belong to?
I'm a big fan of Knights. It's a shame to admit this, but I stuck up with Warden, because I'm such a noob player in multiplayer, and appreciate the single-player missions a lot more, which I had so much fun playing.
**
**
What made you want to be a part of our community?
I think if you like something, you want to be part of a community that revolves around it. I think it's great to be able to share your passion for this game with other people, who have the same passion.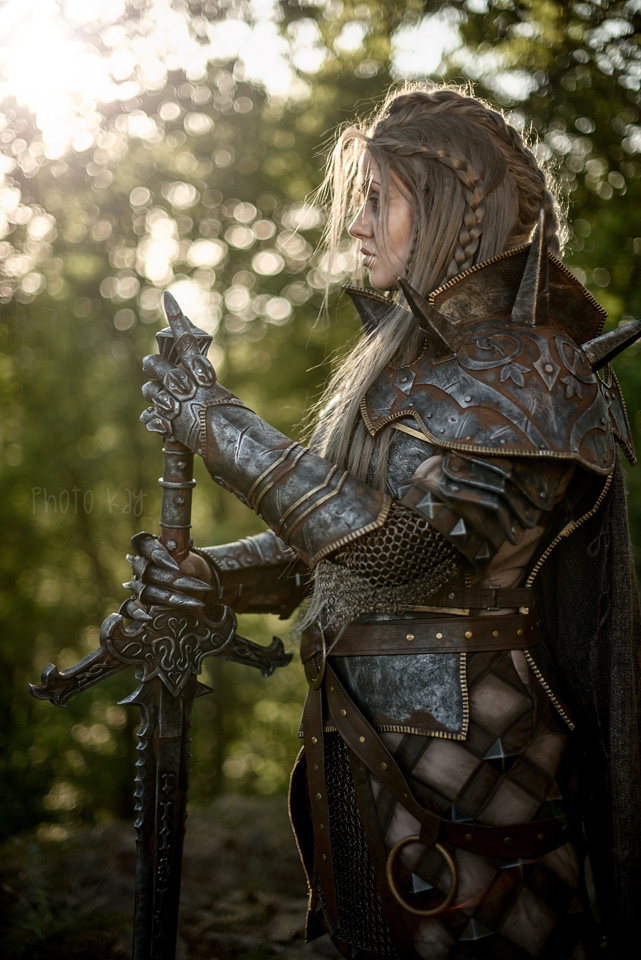 Photographer: kaywinnith
What other hobbies do you have? What do you do outside For Honor?
I generally love playing games and creating cosplays. These are my main hobbies, and my life is currently revolving around them, as I am a streamer and part-time cosplayer/costume maker. I also love spending time with my friends and my family. I love music and animals, and really like to be creative - from making metal jewellery with precious stones, over making paper models of tanks to creating resin and wood furniture.
**
**
On which social media do you feel most comfortable sharing your passion with the community and why?
I started posting my work on Facebook originally, where I've built quite a following over the years, but because of the changes on this platform I moved my focus to Instagram. Pictures there are more important and it's where I'm building my Portfolio now.
I'm able to share my daily progress with people thanks to Instagram stories, which is a plus, but for my full Portfolio, I'm now working on a full website, which will be soon released.
**
**
What's your favorite For Honor moment/story?
It's hard to decide, but regarding the game, it was meeting the Apollyon in the game for the first time. I didn't own her statue back then, so I was looking at her like I was in a dream. It was in the siege mission, where she was visible out of the cutscene for the first time and I could really not take my eyes off her.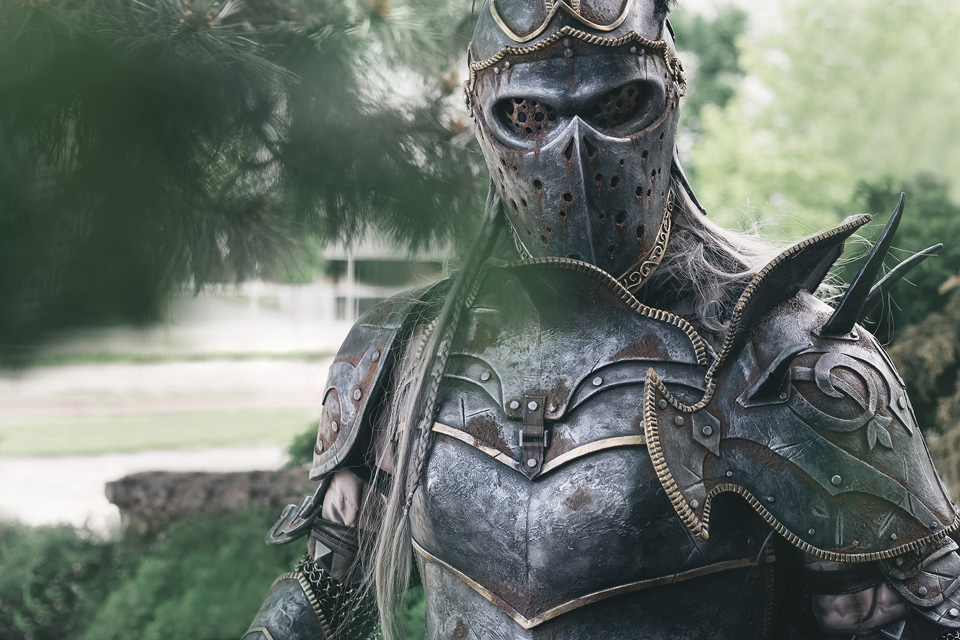 Photographer: Antony Gomes
MORE ABOUT COSPLAYING
**
**
You mentioned in your Apollyon Cosplay Tutorial that the way she looks and speaks made her very appealing to you as a villain. Was it your first time portraying this kind of character?
I was always allured to portray strong female characters and I find it exciting to portray villains like her. Still I'm not easily convinced by characters enough to make cosplays of them, so it was only my third villain and the first that was not an original character. My two previous ones were my own designs, inspired by a fandom or a game.
I had so much fun working on this costume and I have to admit, I'm now more open on working on medieval designs and on villains!
**
**
How long approximately did it take you to make the full cosplay, from the moment you decided to 'become' her?
I decided to create her from the moment I saw her in the Cinematic Trailer, but I struggled for a long time to get a good reference of all the details. I could really finish her after I bought her statue, since not all the smallest details were easily visible in the game either. So it took me over a year to actually make her 100% finished.
**
**
What part of the outfit was the most challenging and why?
Oh it was the helmet! The shape of the helmet is very unique and it actually makes a lot of the character of Apollyon. I was really afraid to even start working on it, thinking I couldn't possibly pull it off accurately. It was hard to create a pattern that would form the foam – the material I've made the helmet from – stay in the shape I wanted. After some tries, I created a shape I was satisfied with and I've spent a lot of time then adding all the smallest decorations, different details. I added a whole black wig in her Mohawk and spent a good portion of time painting all the rusty parts and creating the worn metal look.
I have to admit the helmet is one of my favourite cosplay props I've ever created and I really love to wear it.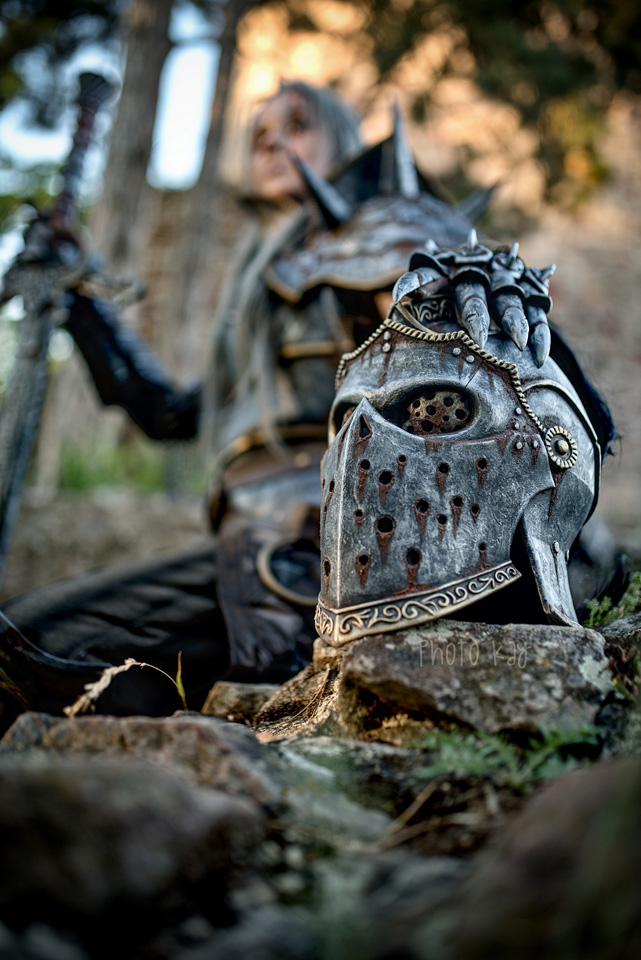 Photographer: kaywinnith
For how many conventions did you dress as Apollyon, and did you win contests with it?
I wore Apollyon for three times already and I've managed to win a First Place in an international cosplay contest in Austria at the Yunicon event in Autumn 2019. I created Apollyon as a competition costume originally and I was happy I could bring her to a contest and be awarded for my work like that!
**
**
You have a Patreon page which helped you gather the funds to create this cosplay. For how long have you been building your community?
I started with Patreon in 2017 and I have rather a smaller community there. I don't like the concept of paid content, so all my Patrons are super kind and supportive people. Thanks to both Patreon and Twitch supporters, I can advance in my cosplay journey. I'm able to work with better materials, learn new things and create more elaborate costumes. And as a way to thank them, I'm creating 1-2 tutorials monthly regarding cosplay techniques or how my costumes are created. I try to include patterns and the list of materials and tools, all free to use for the whole community. I also make giveaways for my supporters as much often as I can.
**
**
What would be your #1 advice for new cosplayers or anyone interested in cosplaying?
I would say: "Don't be afraid of challenges", because challenges move us forward. I try to always create something new, that I've never done before. On Apollyon, it was the old metal texture and the rust effect. The challenge makes us learn new things, try new things and I think there is a lot of fun in that concept.
So don't be afraid to make a costume, maybe start small, but challenge yourself to be better with every new project.
Of course, if somebody asks me about starting with cosplay, it's a very demanding hobby, financially demanding and time consuming. But there are ways to work on budget – I do it myself – and nobody forces anyone to create a new costume every month. Cosplay rewards you creatively; you expand your knowledge, the community is welcoming, you can become your favourite character and feel so good with what you've achieved by yourself!
**
**
Any last word for the community?
I'm very grateful I can be part of this community, I'm happy I could portray Apollyon and I'm also super grateful to you, Marion, for making this interview with me. I'm so happy there is a support of creators and artists in this community, it's an important part that should not be forgotten.
And if you like my costumes and creations, I'd like to invite you to follow me on my social channels to see more of my work. I'd like to create another For Honor character soon, this time I'm thinking about Centurion or maybe Warlord.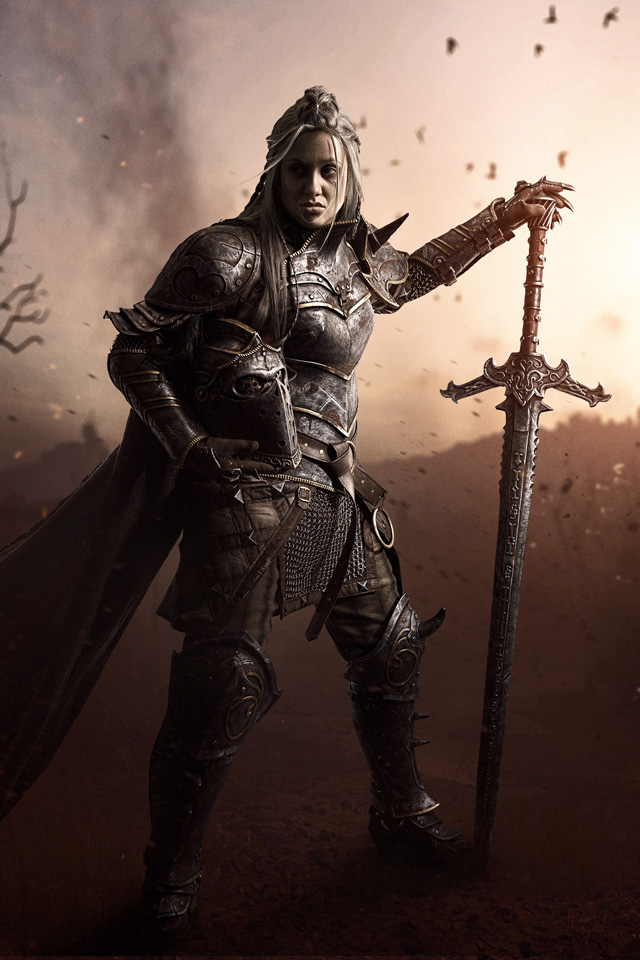 Photographer: Milos Mlady
We hope you enjoyed this month's Community Spotlight!
Want to discover more about Germia? You can find her on Twitter, Instagram, Twitch and Facebook!
In case you missed it, you can find our last article about streaming and creating friendships with NikkiDuh over here.
And if you haven't already, join the For Honor Community on Twitter, Twitch, and Reddit.