Agents!
Today we are bringing you a new instance of the SHD Spotlight, a series of articles where we sit down with passionate members of our community to highlight their creations inspired by The Division game and community.
For this month's spotlight we want to introduce you to Chen aka xdyjdtygkxgz and her translator Vandring. We'll explore Chen's amazing artwork, art process, favourite pieces and how she works collaboratively with Vandring on Twitter.
We can't wait any longer, let's dive in!
Introduction
Chen studied art and graduated in China two years ago. She likes to play videogames, The Division included, painting and unironically enjoys sleeping.
Her username is the Pinyin initials (the standard system of romanized spelling for transliterating Chinese) of her Chinese ID "弦断缘尽的天涯过客小滚珠".
Chen started playing the first The Division game in 2017 and enjoyed it from the start. She tells us that she was already attracted to the visuals when The Division was announced in 2014.
What inspired you to start creating artwork?
I was not used to expressing my own feelings with writing when I was kid. So instead of that, I used colours to paint and record my life. As time went by my enthusiasm for paintings kept growing and eventually, I chose to study art in university.
"Keener and his squad"
What inspired you to start drawing from The Division in particular?
A lot of people create fanfictions and fanart about games, movies based on their love for the IP and the work they are creating tells their feelings and opinions from their own perspective. The Division has a very large background story, based on a realistic world, including a large variety of detailed side stories and NPCs with different characteristics and personalities.
I felt they (NPC'S) deserve more artwork so that's why I basically started creating artwork from The Division and later The Division 2.
What is your favourite piece of artwork that you ever created and why? And which is your favourite piece you did that was The Division themed?
So far, my favourite work is pictured below. I put a lot of effort into this piece, and I like this character very much. This was before the time of playing The Division.
"A Fanart of Faro Wolf from Armor Hero"
My favourite The Division-themed artwork this, showing Aaron Keener leaving his successfully invented Eclipse, where no one knows where his destination is during that moment. With the fading buildings in New York in the Background, which indicates there is no return in his journey (at least this is my interpretation while working on it).

"Aaron Keener against the backdrop of New York"
In your own words, how would you describe The Division Community as a whole?
I feel like the community is an open and friendly place for people who love both games and discuss their opinions together.
What is it that you love about this community?
I like how people are using different ways to express themselves like Cosplay, Virtual Photography, Artwork, and streaming.
What are some of your favourite moments from playing The Division?
I remember when Season 3 came out, there was the hunter who worked with Black Tusk and would appear in each bounty of the manhunt targets. I enjoyed that he appears in the bounties!
Additionally walking around DC and New York, taking photos with the Photo mode, taking control points, and collecting comms/echoes and everything within Season 3 I enjoyed very much.

"The Warlords of New York version of Aaron Keener"
What are your favourite locations or missions in The Division / The Division 2?
Coney Island! I like the colours, the vintage amusement park atmosphere, they are so beautiful!
Moreover, there are missions about Aaron Keener and later the manhunt mission with Bardon Schaeffer, that was for sure a bonus point, since those two are my favourite characters in this Game.
"Chens Process of her artwork 'Hunter with blue eyes'"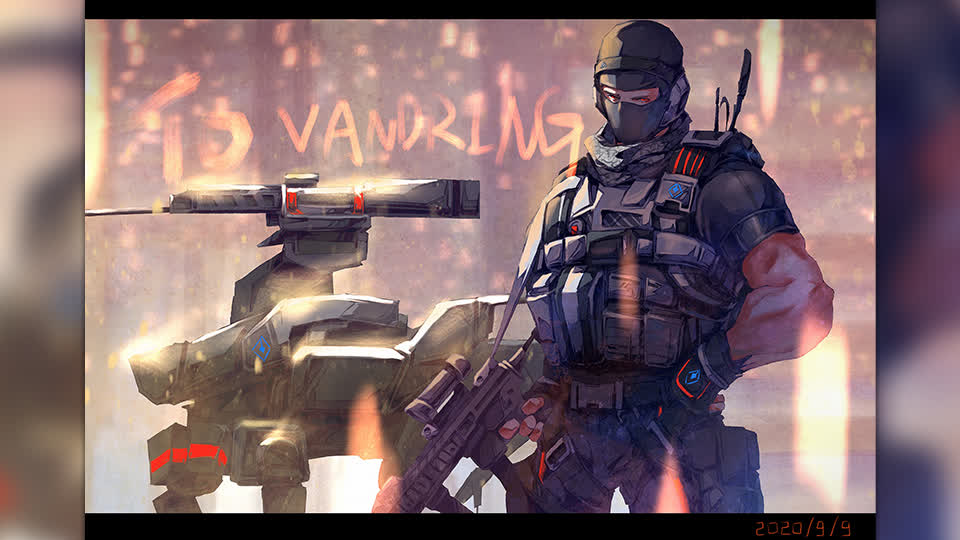 "A gift for Vandring, who translate for Chen on their Twitter Account"
Vandring & sharing artworks on Twitter.
Chen also wishes to give a shoutout to her translator Vandring, who is helping her share and spread her artworks on Twitter, since Chen does not speak English fluently.
They have known each other for three years and are good friends online. Vandring encouraged her to use Twitter as platform to share her work, since the community over there is open and active. Since she is not used to being active in an English-speaking environment, Vandring manages her account and translates any reaction and comments to her.
You can find Chens's work on Twitter.
We would like to thank Chen and Vandring taking their time to share the amazing work and some insights. It was a pleasure to be able to highlight passionate and dedicated member of the community.
//The Division 2 Community Team