Agents!
The Mark IV Encrypted Cache has arrived! Found at the Premium Vendor in the Terminal, these loot containers include exclusive vanity items that are purely cosmetic. Here is a preview of some of the new appearance items in Mark IV!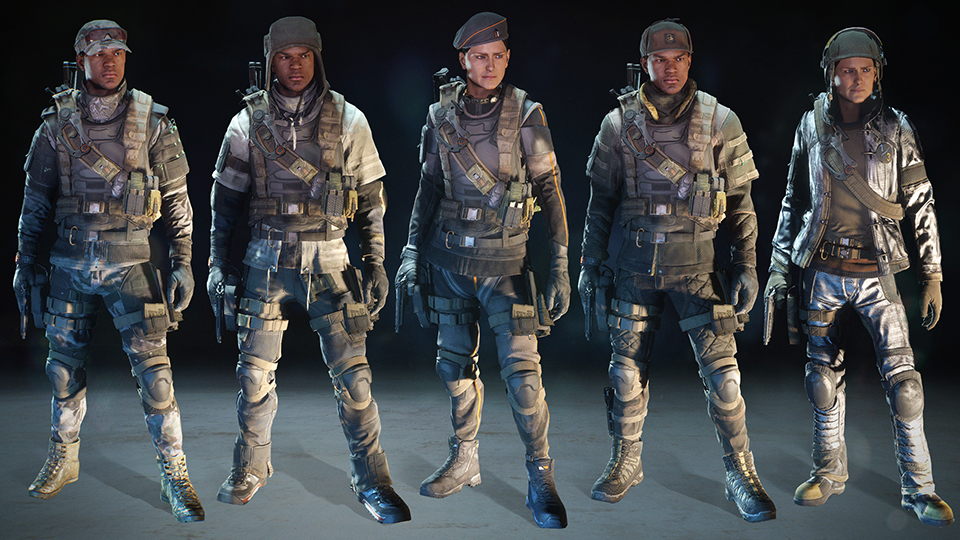 With Sentry's Call and Nomad's Path vanity Collections, Agents can continue to match their equipped gear sets with appearance items! We expect other exciting combinations with the new Commando and Recon Patrol Collections as well! Finishing each of these Collections also unlocks an additional item as a piece of an overall bonus 6th Collection—Silver Bunker.
Opening Encrypted Caches requires Cypher Keys, which can be earned through a few different means. The first is simply by playing The Division. Killing bosses, completing Commendations, and completing Search and Destroy missions all reward Cypher Key Fragments. Ten Fragments are required for one Cypher Key, and one Cypher Key opens one Encrypted Cache. The alternative is through Premium Credits, which can be purchased at the Premium Vendor. Cypher Keys can be purchased in bundles to open Encrypted Caches. Please note that previous versions of the Encrypted Cache are still available at the Premium Vendor.
Here is the total list of items coming in the new Mark IV Encrypted Cache!
Weapon Skin: Print - Snow
Weapon Skin: Print - Stripes
Weapon Skin: Print - Funk
Weapon Skin: Print - Candy
Weapon Skin: Print - Wild
Clothing: Orange earmuffs
Clothing: Black headphones
Clothing: Red headphones
Clothing: Purple headphones
Clothing: Black fishing boots
Clothing: Brown fishing boots
Clothing: Green fishing boots
Clothing: Red snow boots
Clothing: Green snow boots
Clothing: Black snow boots
Clothing: Brown snow boots
Clothing: Black holster boots
Clothing: Violet varsity jacket
Clothing: Red varsity jacket
Clothing: Black varsity jacket
Clothing: Blue varsity jacket
Clothing: Green varsity jacket
Clothing: Mining boots
Clothing: Orange Chullo hat
Clothing: Brown Chullo hat
Clothing: Purple Chullo hat
Clothing: Green Chullo hat
Clothing: Forest print hat
Clothing: Tundra print hat
Clothing: Reflective jacket
Clothing: Fireproof shirt
Clothing: Yellow bolivian scarf
Clothing: Purple bolivian scarf
Clothing: Blue bolivian scarf
Clothing: Ghillie jacket
Clothing: Wild print hat
Clothing: Mining Helmet
Clothing: Commando beret
Clothing: Commando shirt
Clothing: Commando pants
Clothing: Commando shoes
Clothing: Commando throat mic
Clothing: Recon Patrol hat
Clothing: Recon Patrol shirt
Clothing: Recon Patrol pants
Clothing: Recon Patrol shoes
Clothing: Recon Patrol scarf
Clothing: Sentry's Call hat
Clothing: Sentry's Call shirt
Clothing: Sentry's Call pants
Clothing: Sentry's Call shoes
Clothing: Sentry's Call scarf
Clothing: Nomad's hat
Clothing: Nomad's shirt
Clothing: Nomad's pants
Clothing: Nomad's shoes
Clothing: Nomad's scarf
Bonus Item: Silver Bunker helmet
Bonus Item: Silver Bunker jacket
Bonus Item: Silver Bunker pants
Bonus Item: Silver Bunker shoes
A big thanks to everyone for supporting The Division! Be sure to share your Agents sporting their new Agent apparel on the Official Forums, Reddit, and Twitter!
/The Division Dev Team