Intro
As announced in our previous communication, the Hyper Scape development team is now structured into different dev "cells". We're calling this the Hyper Scape Lab. Each of these cells is focused on developing major changes and new features that we can push in-game for all players to test out as quickly as possible.
Our current cells are:
Combat Comfort
Onboarding
Game Modes
Player Goals
Crossplay
World
The following information is an update on some of the main topics that those cells are currently working on and plan to release.
DISCLAIMER: As always with game development, all the features and dates mentioned below are subject to change. It might happen that some things take a bit more (or less!) time to be developed and released so we'll make sure to update you all if that's the case.
One last important thing: what follows are highlights but these are not the only pieces of content planned over the following weeks and months!
Thomas Simon, Game Director
Game balance is not a specific cell, but we wanted to leverage this communication to give some visibility on this important topic.
On top of all the major changes the team is working on, we are constantly iterating on balance to help make each weapon & hack comfortable to use and efficient to play with. Our current mindset when it comes to buffing vs. nerfing is to bring under-performing weapons up to the level of the others rather than nerfing the strong ones down. We are also progressively increasing the shooting comfort across the board to help more players enjoy the game, while preserving the fast pace of the game or its vertical navigation as much as possible.
Apart from the issue that made the Komodo dominant (now fixed in Patch 2.2), the data shows that the weapon & aim-assist changes introduced in Patch 2.1 are going in the right direction : More weapons are becoming a relevant choice for all types of players, which helps newcomers onboard into the game better, and creates a more diverse game meta. Changing the health regen system has opened new opportunities for players to make kills, regardless of their skill level.
Making the game more accessible and friendlier for new players is a necessity for Hyper Scape, and all players will benefit from it in the long run. So you will find much of our balance work in the next couple of months to be in support of this goal.
Of course, Hyper Scape's evolution is not just a question of game balance. Our new features currently in development intend to make the game more diverse for all, and more welcoming for new players one way or the other. You can read all about it below.
TEAM DEATHMATCH
Chris Pope, Game Designer
Team Deathmatch will be our most intense game mode to date and we're super happy that all Hyper Scape players will be able to test out a first prototype in our November Update, which is currently planned for November 18th.
TDM brings players a purely combat-focused experience using all our existing weapons, hacks and navigation mechanics. Through a more focused context with 2 small teams (6v6 or 9v9 TBD), freely respawning in a small section of Neo Arcadia, we are encouraging players to unleash themselves and play more aggressively without worrying about elimination. While this mode will be an exciting change of pace on its own, it's also an ideal mode to help players master Hyper Scape's fast paced, free-flowing combat to gain combat skills they can bring to other game modes including Crown Rush!
Team Deathmatch is also a big technical first for Hyper Scape, introducing several new features that can be leveraged in future game modes:
Quick player respawns at nearby spawnpoints
Loot respawning over time
A more detailed leader-board style scoreboard showing score and stats for all players in match
Point Scoring system allowing for score-based victory conditions
So get ready to have a first try at TDM in November, we can't wait to hear what you think about it!
WIP developer capture. If you'd like to watch a full session in action, head to Luuap's twitch channel for the VOD from a recent TDM playtest with the team!
CROSSPLAY
Shayne McBurney, Game Designer
Crossplay is one of the most frequent asks from the community and we're excited to bring console crossplay in our December Update, currently planned for Dec. 10 – PC crossplay will come a bit later!
Our main goals for Crossplay is to let you play with all your friends, regardless of platform, and to bring our community together as a whole for matchmaking. Crossplay will allow us to offer faster matchmaking and larger lobbies but we also know that merging our entire community together will be challenging and we want to make sure that Crossplay is always an opportunity and not a constraint for players.
So when Crossplay launches in our December 2020 update, we are going to start by bringing our Xbox and Playstation communities together, and work towards the best way to bring in PC at a later date.
These are highlights of what's coming in our next update, currently planned for November 18!
FREE ROAM MODE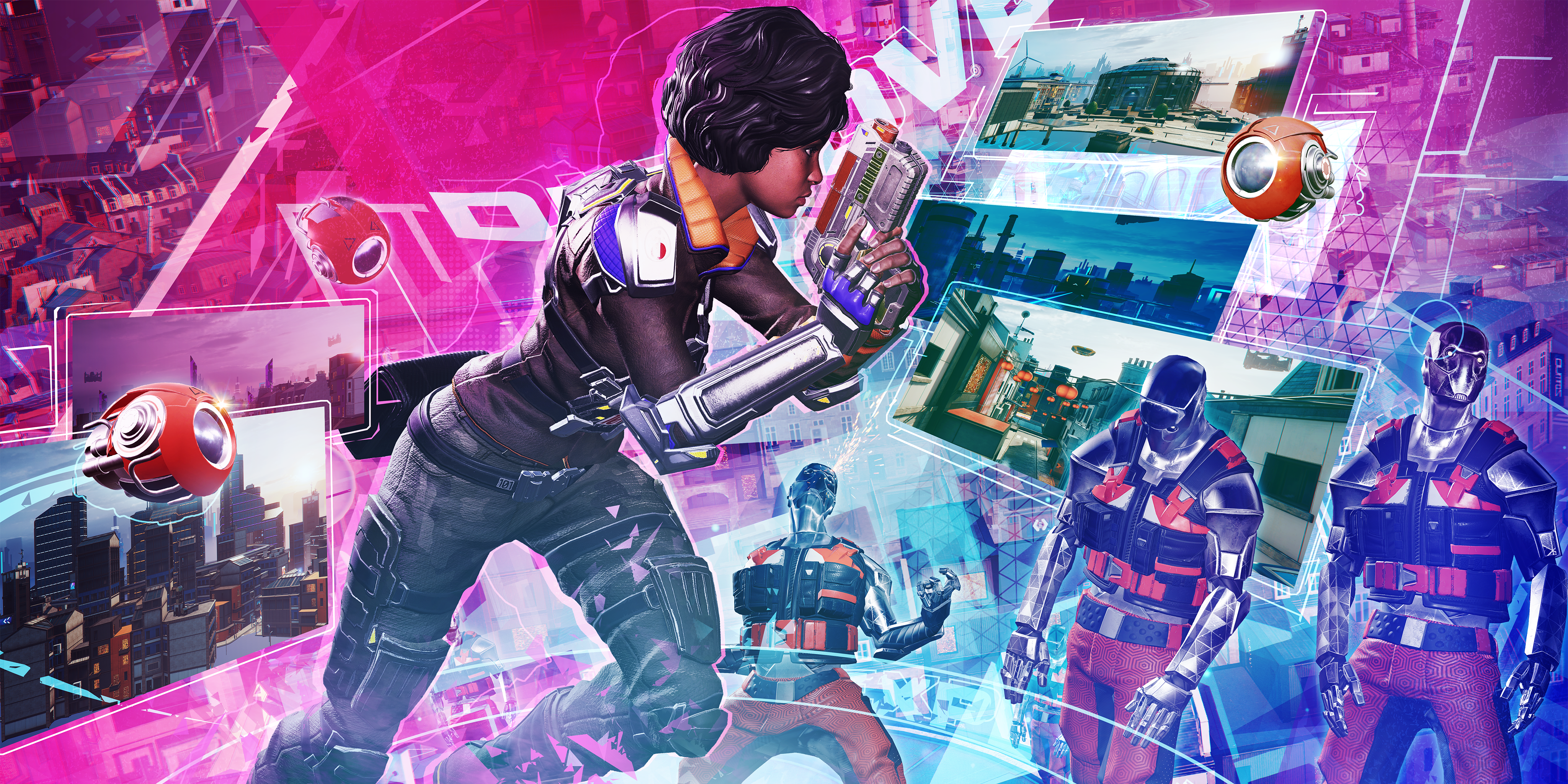 Michael McIntyre, Associate Game Director
Offering a better onboarding and learning experience for our newcomers is one of the main priorities for the full team and our new Free Roam mode is a key element to achieve that goal. We're excited to bring a V1 of that new mode for all Hyper Scape players in our November Update which will allow solo players to roam the full city of Neo-Arcadia and shoot bots and flying drones.
Down the road our objective is to make Free Roam a mode that you can play alone or with your squad so you can practice your skills together without the stress of a "real" match. The Free Roam is not meant to replace the shooting range but rather to provide an additional way for ALL players, both newcomers and veterans, to learn and practice the game. In the final version of Free Roam we envision having dedicated activities available to practice certain elements of the Hyper Scape experience alone or with your squad, such as aiming, navigation or hacks.
TARGETING DRONES
Michael McIntyre, Associate Game Director
One of the brand new elements that we're bringing to the game as part of our improved onboarding is what we call our targeting drones. While the current shooting range is a good base to practice shooting, for now it includes static targets only, but as our players know, most of the shooting in-game happens with targets that are moving, jumping and sliding.
The drones will provide a way for players to practice their shooting on moving targets. For the first pass available in November, they will still be pretty basic but we're already working on improving their AI and will tweak them based on players' feedback and data.
Targeting drones will be available in both the shooting range and the Free Roam v1 mode – we're very much looking forward to your feedback on that very first version!
PATTERNED CHALLENGES
Justin Loranger-Alhuwalia, Game Designer
Right now, challenges aren't very visible and often can seem like more effort than they're worth. Our goal moving forward is to gradually test out changes to this system to make them a more natural and motivating part of the gameplay experience. The first set of changes will come in the November Update:
Replace stacking weekly Challenges with a reset model: Weekly Challenges will be completely wiped, and instead players will get one set of Challenges every week to complete. These Challenges will be much broader in scope, so anyone can complete them with enough effort (no specific weapon or map picks necessary). They will also change every week, so if you don't complete them when the time runs out, they're gone.

Reduce the number of weekly Challenges to three per week: Our current menus make it a bit awkward to check up on all of your weekly Challenges, so we're cutting down the overall number of Challenges. This should make it easier for players to focus on what they need to do to get their rewards.

Simplify daily Challenges: A lot of our daily Challenges have been very specific and didn't mesh well together. We're revamping the daily Challenge list to have a few sets that rotate every few days that put an emphasis on playstyle rather than specific weapons or hacks.
As mentioned at the beginning of this update, these are only some of the major things our development cells are working on, on top of the content we already planned for Season 2. Each of the Patches will come with full detailed patch notes and we plan to update you again next month on the next set of changes to come!
Until then, we're looking forward to your feedback on all these projects and hope to see you soon in the Hyper Scape!
-The Hyper Scape development team