Starting March 17th, Y6S1 Golden Age brings new elements and stories to the world of For Honor to start Year 6.
The lost reliquary of Wyverndale has been unearthed by travelers from faraway lands. Among these treasures lies the Chalice of Immortality, an artifact that sheds light on the ancient past of Heathmoor. Long before the Cataclysm, Knights, Wu Lin, Samurai, and Vikings all lived in harmony in the ancient citadel of Wyverndale, which stood as a monument to peace and prosperity. This era of wonder was achieved thanks to the unprecedented efforts of Lord Ramiel, a heroic Knight who would become known as the First Warden.
In a time of terrible war, Lord Ramiel sought to bring an end to the bloodshed by making a pact with the Great Wyvern - a mythical, fire-breathing creature. The Wyvern helped the Knight defeat his enemies and, together, they watched over Heathmoor for generations.
Year 6 Recap
We started with a recap of the Year 6 Vision Video. In Year 6, we're going to tell a variety of lore packed stories. These stories will focus on the relics and will be about heroic and villainous figures in the history of For Honor. We also added a new customization element, the Hero Skins. Please refer to the specific section in the article for more info on that feature. 2 more heroes will be added to the roster as well in Y6S2 and Y6S4. These heroes will join the rank of the Outlanders and will expand the cultures that we've met so far. Core gameplay is always going to improve and of course, Testing Grounds is still an awesome tool that we'll continue to use in the future to balance heroes and improve gameplay.
We are excited to announce that Crossplay is coming to For Honor on PC, PlayStation, and Xbox. Crossplay will be implemented in 2 phases, with Phase 1 being introduced on March 17th 2022, alongside the launch of Y6S1. The launch of Phase 2 will happen at a later date as it is currently under development.
Crossplay has been an ambition of our team for a very long time. There have been many technical challenges to bring Crossplay to For Honor because the core technical game components were not originally designed to support it. Thanks to the hard work of the team, we are now proud to bring Crossplay to our Warriors. We believe Crossplay will benefit For Honor and its long-term vision.
In Phase 1, Crossplay will be enabled for matchmaking for PVP and PVE modes, unifying the 3 player pools for all PC, PlayStation, and Xbox players. In Phase 2, Crossplay functionality will extend to group play with your cross-platform friends and/or players. Your friends' platform of choice will no longer be a blocker when looking to play together. If you want more info on Crossplay, we have a dedicated FAQ that will answer a lot of the questions that you may have: forhonorgame.com/CrossplayFAQ
For Honor Y6S1: Golden Age 
In this Warrior's Den recap article, we'll go over Hero Skins, the Oath of Wyverndale event, this season's Battle Pass, everything regarding the Testing Grounds and more. Keep an eye out for new armor variations in Y6S1 TU2. More info on all that good stuff and more later.
Players will see something new on the seasonal roadmap: the Hero Fests. It's our new way to celebrate our Heroes. It's a week-long fest where one specific Hero will be free to play in addition to being on sale (33%). Two free symbols are also going to be given to the players when they open the game during the Fest. Furthermore, we'll release a unique execution for that hero. Of course, the execution won't be time-limited. There will be 2 Hero Fests per TU, for a total of 4 per season. The first Hero Fest is going to start on April 7th with the Aramusha. Players can look out for the roadmap for the announcement of the next heroes that are going to be part of the Hero Fest.
For a more in-depth discussion of the season and what's in store for the launch of Y6S1: Golden Age on March 17th, be sure to check out the Warrior's Den VOD.
Hero Skins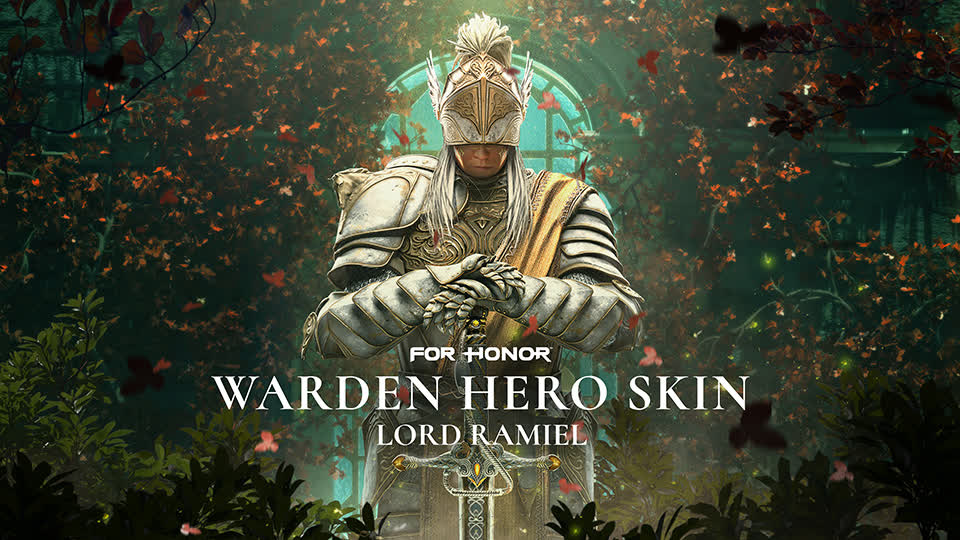 Starting Year 6 Season 1, we'll add a new customization element to the world of For Honor; the Hero Skins. We will release 1 Hero Skin per season for 1 hero, not necessarily at the beginning of the season. The Hero Skin will be based on important characters in the history of For Honor. Our first Hero Skin is for the Warden and its name is Lord Ramiel. The Hero Skin will override the whole Warden's customization, but players will be able to change its material. We also presented Lord Ramiel and gave details about his story and how it ties in with the season narrative.
The pious Knight made a sacrifice to bring peace and protect his people. Through a sacred ritual, he bound his fate to a Wyvern and drank its blood in the Chalice of Immortality. As long as the Knight lived, so would the powerful creature. They vowed to protect the legendary citadel of Wyverndale together.
When the First Warden drank the Wyvern's blood, he was blessed with tremendous powers, but also lost a part of himself. He lost his humanity, his ability to feel pain for himself and others. That is why modern Wardens and Warmongers have different interpretations of that same tale, claiming Ramiel's sacrifice as a symbolic story driving their beliefs.
The Lord Ramiel Hero Skin is going to be available for purchase starting March 17th for 25 000 steels. For 11.99$, players will be able to buy the hero skin as well as a 7-day champion status and 3 scavenger crates.
Oath of Wyverndale
During an era known as the Golden Age, the First Warden, Lord Ramiel, protected Wyverndale against all manner of evil. Only the bravest and the most valiant joined his legion to become fellow defenders of peace and prosperity. But to join Ramiel's side, warriors had to prove their worth to the First Warden - in a trial of blood and fire.
From March 17th to April 7th, participate in Y6S1's launch event The Oath of Wyverndale to earn event-specific weapons, a Battle Outfit, an emote, and more. The game mode is a variation of Dominion. Both teams will race to generate the most victory points by inflicting the most damage upon the Heathmoor's First Warden, Lord Ramiel, as well as control the capture points. Available for a limited time only.
Battle Pass
New visitors from far away have unveiled the lost reliquary of Wyverndale. Now, treasures long forgotten have been made available to warriors once more. From the ancient past of Heathmoor comes old weapons that once again glisten in the light of day. This season's battle pass is inspired by Elvish folklore, mythical creatures, and is deeply rooted in fantasy.
Discover the ancient past of Heathmoor with the Y6S1 Battle Pass. Get 100 tiers of rewards for all heroes to unlock new weapons and mood effects. Premium rewards include Golden Age themed outfits, effects, weapons, a battle points boost from completed matches, 11K steel and more. This Y6S1 Battle Pass will be available from season launch to June 14th 2022.
Testing Grounds
Following up on last season's Testing Grounds phase, we have one important element that will enter the live game at launch of this season through Patch Changes:
For this season, two topics are going to be entering the Testing Grounds from March 31st to April 6th:
Conqueror Rework
Shaolin Rework
If you want to learn more about the changes implemented at launch and what's to come in the Testing Grounds this season, there's a dedicated article that breaks down all the information provided by the fight team: forhonorgame.com/FightUpdate
Finally, if you want to have more information about the Y6S1 in addition to the new features of Year 6, be sure to check out the Warrior's Den VOD.
We'll see you again at the next Warrior's Den Recap. Stay safe!