It's been more than two years since the launch of Assassin's Creed Valhalla, and what a journey it has been! Eivor's saga has been experienced by more than 20 million players around the world, and today, we are releasing the last content update for Assassin's Creed Valhalla.
Here is an overview of what's available now in Title Update 1.6.2.
The Last Chapter
Eivor's journey is coming to an end in The Last Chapter, a new free story pack bringing an intimate closure to the saga of the Wolf-Kissed. Jump in now and discover the epilogue that ties up some of the storylines established within the game.
Reunite with several key characters, including some influential historical ones, along with old friends and foes. As Eivor sets forth towards different shores and new adventures, she grapples with Odin's memories and discovers new truths about herself.
Important Note: For players to access The Last Chapter, a few conditions need to be met. These include completing all the pledges of all territories in England, as well as the mythical arcs of Asgard and Jotunheim, eliminating all the targets of the Order of the Ancients, upgrading your settlement to level 5 and constructing the Jomsviking barracks.
Shared History
Shared History is a new free quest for all Assassin's Creed Valhalla players, featuring Roshan, from Assassins Creed Mirage, voiced by Shoreh Agdashloo in the English version of the game. After first meeting Basim's mentor in Mirage's announcement trailer, you will be able to see her in action in the word of Assassin's Creed Valhalla, as she and Eivor discover that they share a common enemy.
New Features
Hood Always On is now available in the game! Access the option to keep your hood up by toggling your settings from the in-game menu and enjoy the wonder of exploration and intensity of combat while keeping your Assassin style.
Note that this option is cosmetic only and does not impact stealth or detection.
Two new skills have also been added to Eivor's arsenal:
Slide Focus: When sliding, players can aim and use the bow in a restricted angle, when doing so the world slows down to permit the player to aim effectively.
MasterChef: Consuming a ration provides an adrenaline point.
Weekly Free Item:
Starting December 6, you can access the new Weekly Free Item feature. This allows you to claim a random item from the In-Game Store once a week, for free.
All items sold in the In-Game Store are available in the Weekly Free Item feature apart from few exceptions related to Licensing content.
Note that the offer will reset every Tuesday at 14:00 UTC, and that you will need to load a save file to redeem it.
Collaboration
The worlds of Assassin's Creed and Destiny are about to collide with a crossover that will bring Destiny-themed items to Assassin's Creed Valhalla, and Assassin's Creed-themed cosmetics to Destiny 2. Assassin's Creed Valhalla players can purchase a Destiny-themed character pack, which includes armor sets, swords, a scout skin and a mount skin. Players can also grab a weapons pack which includes four unique spins on Destiny's iconic subclasses, each with their own gameplay perks and custom effect.
Free Weekend
If you haven't experienced Eivor's journey yet, or haven't had the chance to jump back in, now's your chance. There will be a Free Weekend on Assassin's Creed Valhalla from December 15 through December 19. This is a fantastic opportunity to get started on your Viking journey across Norway and England.
Legacy Outfit
In the world of Assassin's Creed, December 21 marks the day Desmond Miles sacrificed himself to save the world from a global catastrophe. For us, it is the annual celebration of Assassin's Creed and its community with #ACDay.
As part of our celebrations this year, we are happy to announce that all Assassin's Creed Valhalla players will be able to claim the Young Ezio Legacy Outfit for free, via Ubisoft Connect. Bring your Renaissance style throughout England and Norway and track down the Order of the Ancients with the iconic robe that defined one of the most beloved characters of the series.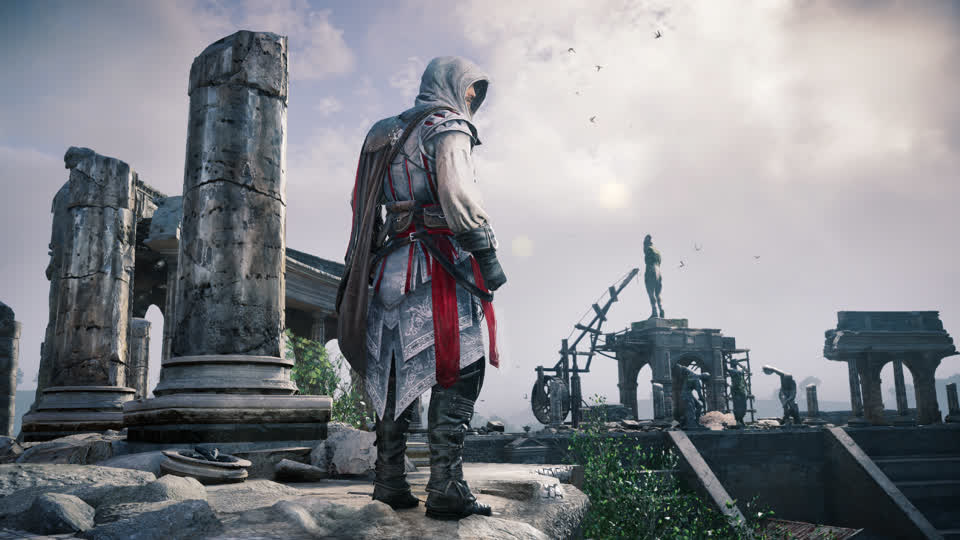 Thank you for jumping into Assassin's Creed Valhalla over the last two years. We hope you enjoyed the ride as much as we did! We will see you all next year, in the streets of 9th century Baghdad.